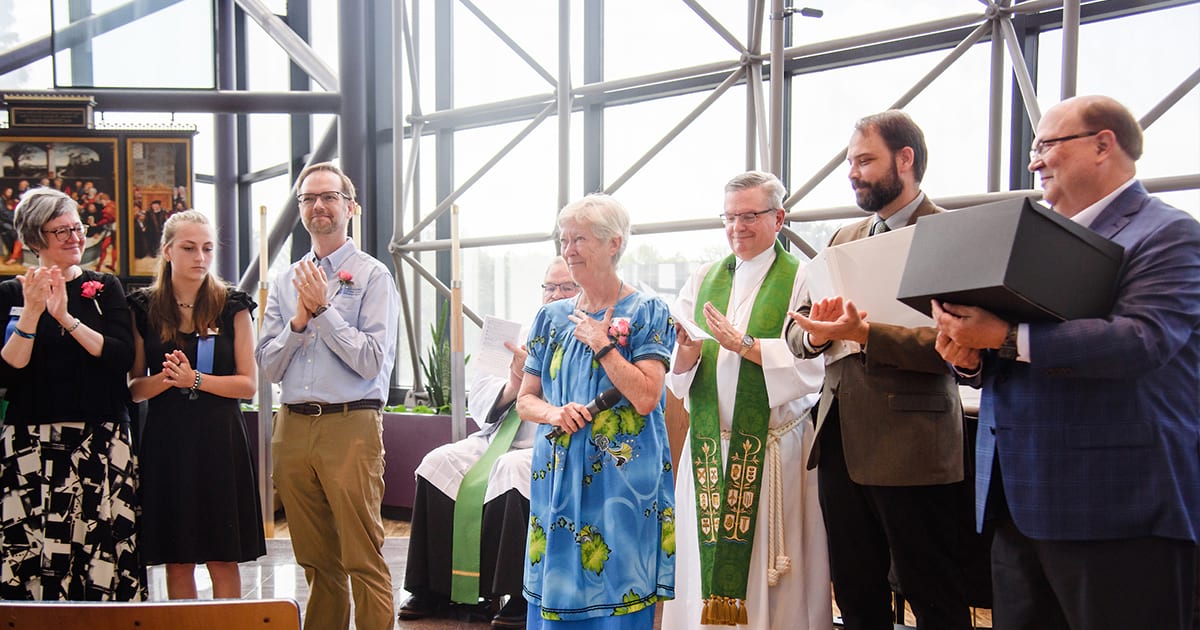 By Stacey Egger
On Aug. 26, The Lutheran Church—Missouri Synod (LCMS) Office of International Mission (OIM) held a Day of Thanksgiving to recognize the service of eight missionaries and missionary families who concluded their service on the international mission field and to welcome one new missionary.    
The day also served as a reunion and opportunity for fellowship among current LCMS missionaries, missionary alumni and OIM leaders who were able to attend.
LCMS President Rev. Dr. Matthew C. Harrison preached for the Service of Thanksgiving held during daily chapel at the LCMS International Center (IC) in St. Louis. In his sermon, he reflected on Paul's second letter to the Corinthians, whose church was "a mess, just like the church today."
"The first word [Paul] says in his greeting is 'grace.' … Today, especially to our retiring missionaries, the word for you is grace. … You can be absolutely certain that the Lord is now, has been and shall be working all of your work, all of your life, for His benefit and blessing, and for the benefit of others. His Word does not return void, never returns void — you can count on it completely," said Harrison. 
New missionary Rebecca Bartelt, who has completed missionary orientation and will be going to Taiwan as a sacred music educator, was recognized during the service. Eight outgoing missionary families were also honored. 
"Amongst these families, we have over 100 years of service and experience serving internationally. We are thankful to you for your faithful witness," said Christian Boehlke, OIM's interim executive director.  
The eight missionary families are: 
 Kipp and Tami Beaudoin, who served in Ukraine from 2019 to 2021;
 Jacob Gaugert, who served in Togo and Francophone Africa from 2013 to 2022;
 Rev. Dr. Brian and Amanda Gauthier and family, who served in Panama from 2015 to 2020;
 Tom and Debi Going and family, who served in Japan and Indonesia from 1990 to 2022;
 Julie Lutz and family, who served in Papua New Guinea from 1986 to 2022;
 Rev. Daniel and Lisa McMiller and family, who served first in Panama, and then at the OIM in St. Louis, from 1986 to 2022;
 Rev. Charles and Deborah St-Onge, who served in China, Canada and the Caribbean from 2013 to 2022; and
 Deaconess Stephanie Wilde, who served in Puerto Rico from 2019 to 2021.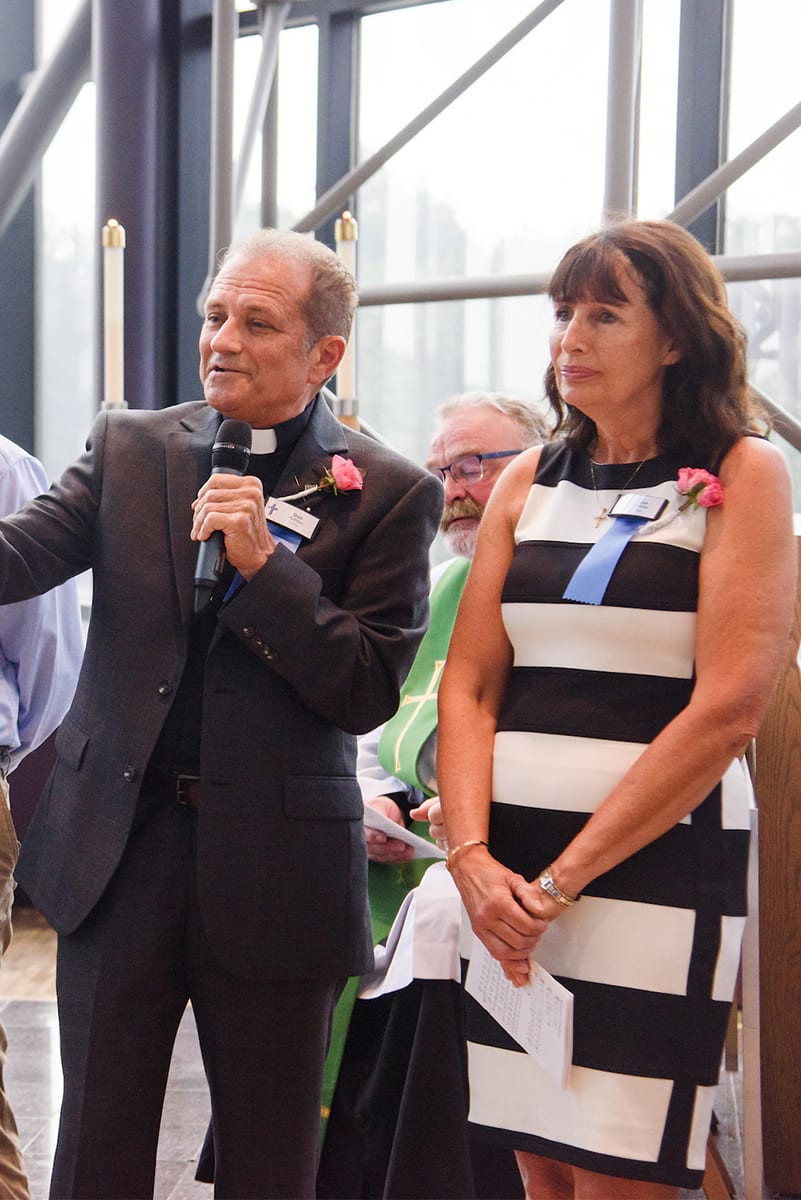 McMiller, who stepped back earlier this year from his role as OIM executive director, received a standing ovation during the recognition. Throughout his career, McMiller has worked in a variety of mission roles, including serving as a missionary to Panama, Peru and Chile and an inner-city church planter in Milwaukee. 
McMiller gave a brief address in which he thanked the missionaries and all the staff who "support this ecclesiastical endeavor around the world. It is in many ways a human enterprise, broken and failing, but it's the work of the church."
"So," McMiller continued, "be church. President Harrison, over the years you've always said it so well: 'Be faithful. Be faithful, and be church to one another.' " 
Decades of wisdom
In addition to worship, the day also included presentations by two of the missionaries departing the field. LCMS Asia Regional Director Rev. Charles Ferry noted the benefit of learning from those who have gone before. 
"[Since we have] missionaries with so many years of varied experiences," Ferry said, "it's wonderful to have opportunities … to take advantage of the wisdom that they've gained, so that as we work in these fields, we can continue to … learn."  
Julie Lutz, who gave the first presentation, began serving in Papua New Guinea in 1986 along with her husband, Dr. Steve Lutz, who passed away in 2010, and their four children. 
The Lutz family — including Julie, Steve, their grandparents, parents, siblings and children — has served collectively for over 110 years in Papua New Guinea, India and Cote D'Ivoire. Lutz shared insights gained from her decades on the mission field.  
The Rev. Dr. Brian Gauthier presented on the struggles and joys of being a missionary. 
"What a joy it was to teach young men desiring to be pastors, who later became the first Lutheran pastors in their country and are actively planting Lutheran congregations to this day. These moments were some of the most joyful and fulfilling in my vocation as a missionary, and perhaps even in my life," he said. 
Though missionary life has many struggles, Gauthier emphasized the rewards. "As the prophet Isaiah tells us in chapter 55, 'The word of the Lord never returns empty.' The mission of the Gospel doesn't depend on me, and it certainly won't depend on you, future missionaries.
"The Lord grows His church. … This is the joy of being a missionary: Your call to carry the lifegiving Gospel of Jesus to all the corners of the globe."
The Day of Thanksgiving also included opportunities for conversation and fellowship; a presentation by Karen Morrison, vice-president of Gospel Outreach for the Lutheran Women's Missionary League; and a session from the LCMS Short-Term Mission team on ways for the missionary alumni to stay engaged after transitioning off the field. 
Posted Sept. 20, 2022/Updated Sept. 23, 2022