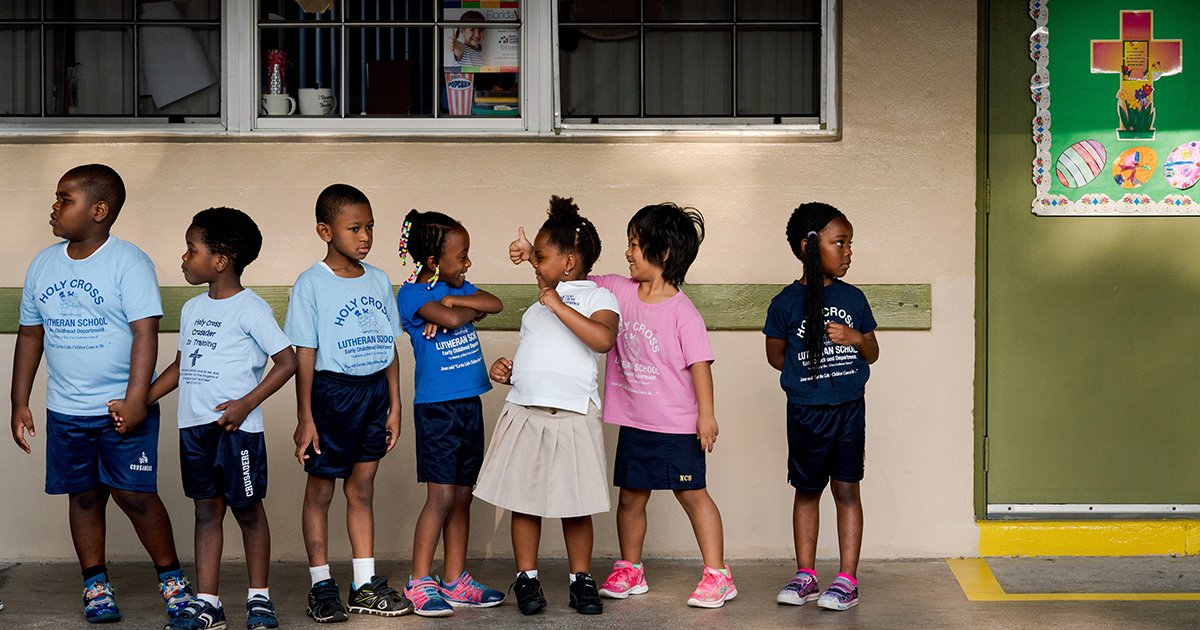 The Lutheran Church—Missouri Synod (LCMS) will observe National Lutheran Schools Week (NLSW) Jan. 23–29. This year's theme, "In All Things," comes from Colossians 1:17: "And he is before all things, and in him all things hold together."
LCMS School Ministry has produced a variety of materials to support schools and congregations in celebrating NLSW. They include:
A resource manual with a welcome letter from Dr. Rebecca Schmidt, director of LCMS School Ministry; a presidential proclamation from LCMS President Rev. Dr. Matthew C. Harrison; and worship and devotional materials for each day of NLSW;

A reproducible, downloadable bulletin insert;

Posters to aid in celebrating NLSW; and

 

Other resources such as graphics, slides and this year's NLSW hymn.
Schmidt notes in her welcome letter that, while "In All Things" is the theme for NLSW, it also reflects what Lutheran schools do all year long.
"In praise and thanksgiving to God, teachers and students strive to do their best, seeking to do all things well," Schmidt writes. "[W]hen they fall short they are blessed to be able to seek the grace of God for forgiveness and then rededicate their efforts individually, and as a school, to glorify God and serve His people."
The LCMS currently has a combined total of almost 1,900 preschools, elementary schools and high schools and more than 21,000 educators, of whom almost 5,500 are rostered LCMS teachers. 
NLSW is designed to provide every congregation and school with the opportunity — and the resources — to publicly proclaim what God has done in Christ for all, including those who teach and learn in LCMS schools. NLSW is also an opportunity to encourage young people in every congregation to consider pursuing professional church work as a lifelong vocation. 
"As the Synod embarks on a new church worker recruitment initiative, National Lutheran Schools Week is another reminder of how much the church needs faithful workers, including teachers. During NLSW, we in LCMS School Ministry especially give thanks for those who teach and form our children for lives of service to their neighbor and faithfulness to God."
During the upcoming NLSW, daily chapel at the LCMS International Center (IC) will feature visiting musical ensembles from several Lutheran schools in Missouri. Worldwide KFUO broadcasts chapel daily at 10 a.m. Central time, and the IC livestreams the service on the Synod's Facebook page.
Find out more about NLSW at:
Posted Jan. 4, 2022