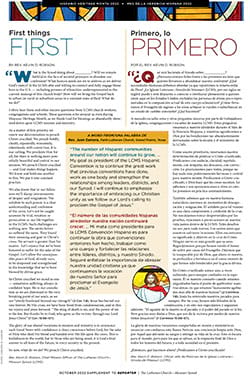 This bilingual supplement to the October 2022 Reporter highlights Hispanic Heritage Month with four features on the proclamation of the Gospel throughout the Spanish-speaking world.
A word from Chief Mission Officer Rev. Kevin D. Robson on preaching the Gospel in all times and places;
The story of Casiodoro de Reina, translator of the first complete Spanish Bible;
A brief history of the 17th century Lutheran missionaries to Latin America who suffered under the Spanish Inquisition; and
An interview with the Rev. Zabdi Lopez about his work to bring together a bilingual Lutheran congregation.
As a Synod, we give thanks to God for these servants of Christ, past and present, who have faithfully ministered to Spanish-speaking communities.
Read supplement