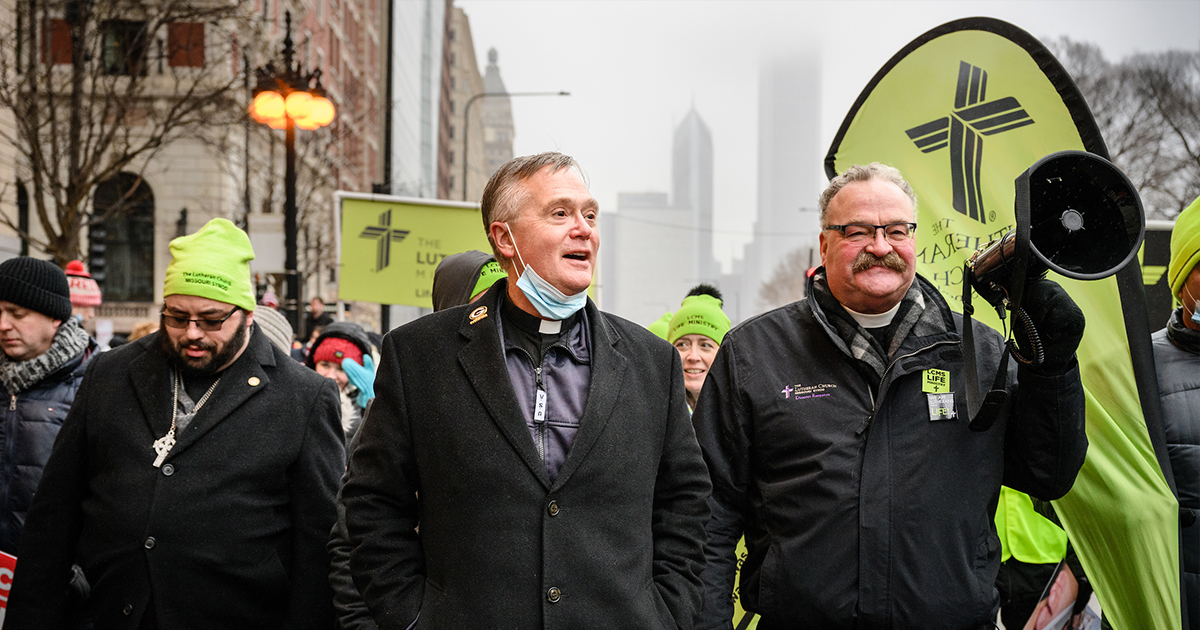 By Stacey Egger
On Jan. 8, over a thousand people gathered to march for life in Chicago, a city known for its legislative opposition to the pro-life movement.
Among the group were at least 100 LCMS participants marching under the Synod's Life Ministry banner. They were led by LCMS President Rev. Dr. Matthew C. Harrison, who opened the March for Life Chicago rally with a short address and a prayer.  
"It's a great day, Chicago. Remember this day well. You were here the year Roe v. Wade dies," said Harrison.
"The fact is that this state, Illinois, has passed the most draconian anti-life legislation in the history of the world. … This is the moment to be pro-life in Illinois, for Illinois. And we will be. And we're going to do it through prayer, to start this whole thing."  
Harrison's prayer was followed by remarks by several other speakers. Then the March for Life Chicago began, cutting through the heart of downtown Chicago, tracing a route north from Federal Plaza, and crossing over to Michigan Avenue to march south past Millennium Park and the Art Institute of Chicago. 
"It was particularly meaningful and joyful to gather and march in Chicago this year after experiencing many months of isolation and separation," said Deaconess Tiffany Manor, director of LCMS Life Ministry. "We know that the people who were on the streets of Chicago near us might not value all human life as we do. And yet we confess our faith as we march and witness to a world that desperately needs Jesus."
'The happier cause'
The LCMS group sang hymns, chanted liturgy and — led by Harrison — confessed the Apostles' Creed and the Lord's Prayer. 
"There is wonderful theology in these hymns that really speaks to the saving grace of our Father," said participant Melanie Lohmeier, a member of Calvary Lutheran Church in Elgin, Ill.
Lily Wegner, a member of Bethel Lutheran Church in Morton, Ill., said that she appreciates how those in the pro-life movement "are full of hope and … joy," as opposed to those who advocate for abortion. "Supporting life is the happier cause, and I think that will lead you to Christ because of the joy you can find in Him." Wegner, a high school junior, shared that when she was in the womb, her parents were told that she might have Down syndrome. They were encouraged to consider an abortion but never did.  
"I am so glad to be here today, and to have great parents, and I would encourage anyone who is [considering abortion] to … think about the implications on the future generation and to their unborn child." 
In addition to starting a Students for Life chapter at her high school, Wegner has started a program at Bethel called A Mother's Love. As part of the program, mothers from the congregation will mentor women facing a crisis pregnancy by meeting with them for Bible study, getting to know them and pointing them toward pregnancy resource centers.  
'Christ died for them as well'
The march did not escape the notice of counter-protestors, who stood and held signs across the street from the rally and at various points along the march route. 
"My heart went out to them as we were marching," said the Rev. Roger Drinnon, pastor of St. Paul's Lutheran Church in Bourbonnais, Ill. "It gives us a great opportunity … to pray for people [who] seek to attack Christ and His message and counter that … with prayer and with love. … Every time [we passed the protestors], we would sing hymns, we would pray. … [It is an opportunity] to remember that Christ died for them as well, and to seek love and compassion even for those who oppose the message."
Sharing ideas and resources
Life marches serve as opportunities for pro-life advocates not only to take a stand publicly, but also to connect, learn about resources, and share ideas and encouragement.
An expo held at the Hilton Downtown Chicago before and after the march featured exhibitors from a variety of pro-life organizations, including the LCMS and the LCMS Northern Illinois District (NID) Life Task Force. The Rev. Cory Estby, NID life coordinator and pastor of Zion Lutheran Church in Grant Park, Ill., said that the task force exists primarily to assist the district's congregations in getting involved in local pro-life work by helping them "look and see who their neighbors are. Who are the pregnancy resource centers that can … work with us, [and] how can we encourage our members to … support [them]? Within our congregations as well … how do we support … mothers and fathers, and that family environment in which we know children can best be raised?"
Another exhibitor, Redeeming Life Outreach Ministries, operates a maternity home in Sanford, Fla., and plans to open another this year in the NID, with the ultimate goal of opening at least one maternity home in every district of the LCMS. Barbara Kinast, volunteer for programming with the NID Life Task Force, said that organizations like Redeeming Life — an LCMS Recognized Service Organization — help people see alternatives to abortion.
"I don't think people want to choose abortion," Kinast said. "I think sometimes people think that they don't have a choice, and places like Redeeming Life … provide women with that choice."
Also present at the expo was Dr. Donna Harrison, executive director of the American Association of Pro-life Obstetricians and Gynecologists (AAPLOG). The largest pro-life physician organization in the world, AAPLOG has participated in every Supreme Court hearing on abortion since Roe v. Wade and served as the lead medical voice in December's Dobbs v. Jackson Women's Health Organization case.  
Donna Harrison said that, while there are a variety of ways that medical professionals justify their participation in or support of abortion, "the biology is really clear." In addition to teaching the science about when life begins, AAPLOG works to communicate the increased health risks that abortion poses to women, including pre-term birth in future pregnancies, breast cancer and mental health problems. 
Following the march, LCMS Life Ministry hosted an event at the Hilton for LCMS attendees. Speakers included the Rev. Dr. Alan Buss, NID president; LCMS President Harrison; Manor; and Estby. 
Million Dollar Life Match

 
This year, the LCMS will launch the Million Dollar Life Match, a grant opportunity for LCMS congregations involved in new or ongoing human-care work in support of life. 
"Part of the strategy of people who are pro-abortion is to scream down people who are pro-life, to make them afraid to stand for the truth. [Things like] our Million Dollar Life Match, this march, rallying, speaking the truth, supporting it in our congregations — all of this is part of being a witness to the truth, as Christ has commanded us to be," said the Rev. Robert Zagore, executive director of the LCMS Office of National Mission. 
Learn more about the Million Dollar Life Match. 
Get more information on the work of LCMS Life Ministry or other life marches planned around the country this year.
View more photos from the March for Life Chicago. 
Posted Jan. 26, 2022