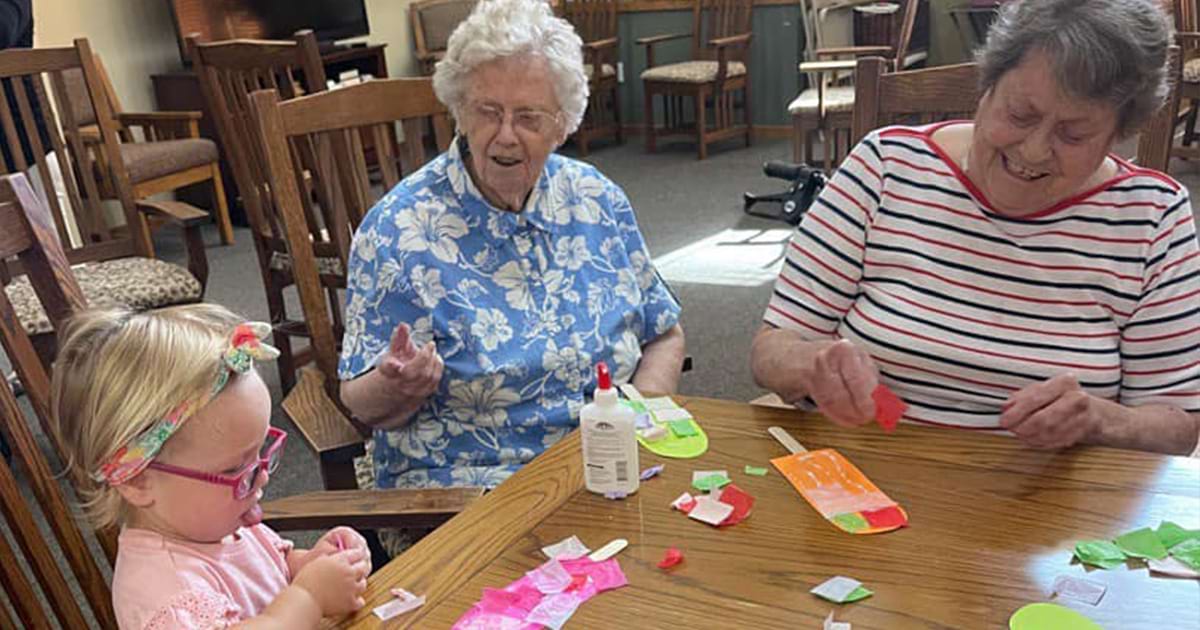 The monthly "Campus Clips" column includes brief reports from LCMS day schools, universities and seminaries.
Intergenerational learning
Acorns & Oaks Christian Academy, Perry, Iowa, an intergenerational child care center housed in a senior living community, announces the grand opening of a 3- and 4-year-old preschool. 
Acorns & Oaks came out of a partnership between Christ Lutheran Church, Bouton, Iowa, and Perry Lutheran Homes in Perry. After renovation at Perry Lutheran Homes King's Gardens campus, and with generous support from many partners including the Dallas County Foundation, the Bock Foundation, the LCMS Iowa District West, the Lutheran Women's Missionary League, members of Christ Lutheran Church and many individuals, Acorns & Oaks began offering day care in summer 2017. Now a preschool has been added. 
Intergenerational programs provide benefits for both children and older adults. "Acorns" are the children, and "oaks" are the Lutheran Home residents. "Acorns & Oaks Christian Academy remains one of few child care centers in the nation to be located within a senior living community," said the Rev. Max Phillips, CEO of Perry Lutheran Homes. "Here, children not only develop and grow academically; they also grow in their faith. And because of the intergenerational aspect, they learn to value older adults and become comfortable around assistive devices such as wheelchairs and walkers. They learn to see people and love them for who they are on the inside."
"My heart is invested heavily in Acorns & Oaks," said Dave Menz, president of Christ, Bouton, and an Acorns & Oaks board member. "I've watched it grow from a concept to a day care to … a preschool. Over the past six years, Acorns & Oaks has touched so many lives with the light and love of Christ. I spend an hour or two every Sunday morning visiting with residents. The wise 'oaks' almost always bring up a story about their little 'acorns' that they get to know, watch grow and love. I look forward to continued growth and the lives that will be touched in the years to come."
Blue ribbon school
Crean Lutheran High School (CLHS), Irvine, Calif., was one of just 353 schools across the United States and the only private school in California recognized by the U.S. Department of Education as a National Blue Ribbon School for 2023. CLHS was recognized in the category of Exemplary High Performing Schools.
"[CLHS'] mission is 'Proclaiming Jesus Christ through Excellence in Education,'" said CLHS principal Dr. Daniel Moyer. "To receive such an honor affirms our commitment to this mission, to our students and to excellence worthy of Jesus Christ."
CLHS was founded in 2007 with an initial student body of fewer than 100 students. CLHS now has 1,100 students, an 18-acre main campus and a 12-acre athletic complex. 
The foundational verse of CLHS is 1 Samuel 7:12: "Thus far the Lord has helped us." In the face of many challenges over the years, CLHS has stood boldly behind the cross and proclaimed Jesus Christ to all who will listen.
Study and work
Concordia University, Nebraska (CUNE), Seward, Neb., has announced the formation of the Paul Scholars work college program, which is expected to launch in fall 2024. Students accepted into the program will earn full tuition through a combination of institutional aid, scholarship and job income while gaining experience in their chosen career field. Ten students will be admitted to the program during its inaugural year.   
"Paul Scholars is a dedicated academic community that aims to cultivate students' competence, character and conviction," said CUNE professor of accounting Todd Johnson. "Students pursue a major of choice, engage in 15 hours of work per week in designated jobs and complete an interdisciplinary minor focused upon a biblical understanding of work. … In return, the student's tuition is covered in full for up to four years of full-time study." 
Paul Scholars will offer students a community that combines academic excellence with real-world work experience to seamlessly integrate classroom learning with practical job skills, fostering a holistic approach to higher education that promotes servant leadership in the church and world.
New record highs
On the heels of a record-setting start to the fall 2023 term, the official student enrollment census within Concordia University, St. Paul (CSP), St. Paul, Minn., confirms multiple new records. With negligible reduction since the first day of term, CSP set a new record for overall enrollment, officially clocking in at 5,819 students across CSP (traditional four-year undergraduate programming) and CSP Global (online undergraduate and graduate programming). The new record marks an increase of approximately 300 students compared to enrollment for 2021 and 2022. Current enrollment is also nearly 2,200 students higher than CSP's total enrollment from a decade ago.
Standing tall
In late September, Concordia University Chicago (CUC), River Forest, Ill., officially launched its new brand strategy and related enrollment campaign: "Stand Tall." As an initiative contained within CUC's strategic plan — Focusing Our Future 2025 — this new brand identity is a key component of the organization-wide strategy propelling CUC from the foundation of its mission to the goal of realizing its vision.
This new creative expression of the brand is based on extensive feedback from students, faculty, staff, alumni and friends. While highlighting the individual values that members of the CUC community hold true and stand tall for, the new brand platform is deeply rooted in the existing principles of truth, freedom and vocation. As a university that always has and always will hold Christ at the center of all it does, the new CUC tagline, "Christ at the Center," has been added to the updated logo to clearly proclaim to all the university's unwavering commitment to Jesus Christ.
Ribbon cutting
Concordia University Irvine (CUI), Irvine, Calif., held a grand opening and ribbon-cutting ceremony for its new Spectrum campus on Oct. 5. The event drew civic leaders, education partners and health care leaders from Irvine and Orange County as the new 114,000-square-foot campus in Irvine was officially opened and dedicated. Irvine Mayor Farrah Khan noted that, with the opening of CUI's second campus in Irvine, the university has added a new "gem" to the treasured educational institutions of the city. The Concordia—Spectrum campus will house CUI's Accelerated Bachelor of Science in Nursing program, graduate programs in the School of Health and Human Sciences, and other health care programs.
Inauguration celebration
Concordia University Wisconsin and Ann Arbor (CUWAA) hosted eight days of celebration in Mequon, Wis., and Ann Arbor, Mich., to mark the inauguration of Dr. Erik P. Ankerberg as CUWAA president. The festivities included a speaker series, a gala, a poetry contest for students, and fun activities and games. An inauguration ceremony took place on Friday, Sept. 29. The ceremony, as well as videos of the speaker series guests, is available for viewing at cuw.edu/inauguration. 
Supporting mental health
Access to mental health services is a growing concern within the United States due to a shortage of skilled professionals combined with a rise in need. In response, Concordia University Wisconsin (CUW), Mequon, Wis., has designed a new psychiatric mental health nurse practitioner (PMHNP) certificate program. Launched in fall 2023, the School of Nursing's PMHNP certificate program is a fully online, post-graduate program for licensed nurse practitioners. The program consists of 18 credits and 500 practicum hours. An individual enrolled full-time could complete the program in one year. Graduates are then able to prescribe medications and more fully care for patients with mental and behavioral needs. Learn more at cuw.edu/nursing. 
Advanced degrees
Applications are now being accepted for the advanced studies programs at Concordia Seminary, St. Louis (CSL) — Doctor of Ministry (D.Min.), Master of Arts (M.A.), Master of Sacred Theology (S.T.M.) and Doctor of Philosophy (Ph.D.). The application deadline is Nov. 30 for international students and Feb. 28, 2024, for U.S. citizens. "The Doctor of Ministry program has really helped me learn how to serve better in ministry in a very practical way," said the Rev. Aaron Hutton (M.Div. '09). "It allows me … in my context, to learn and grow." Learn more at csl.edu/admissions or by contacting the seminary at 800-822-9545 or admit@csl.edu.
Posted Nov. 10, 2023