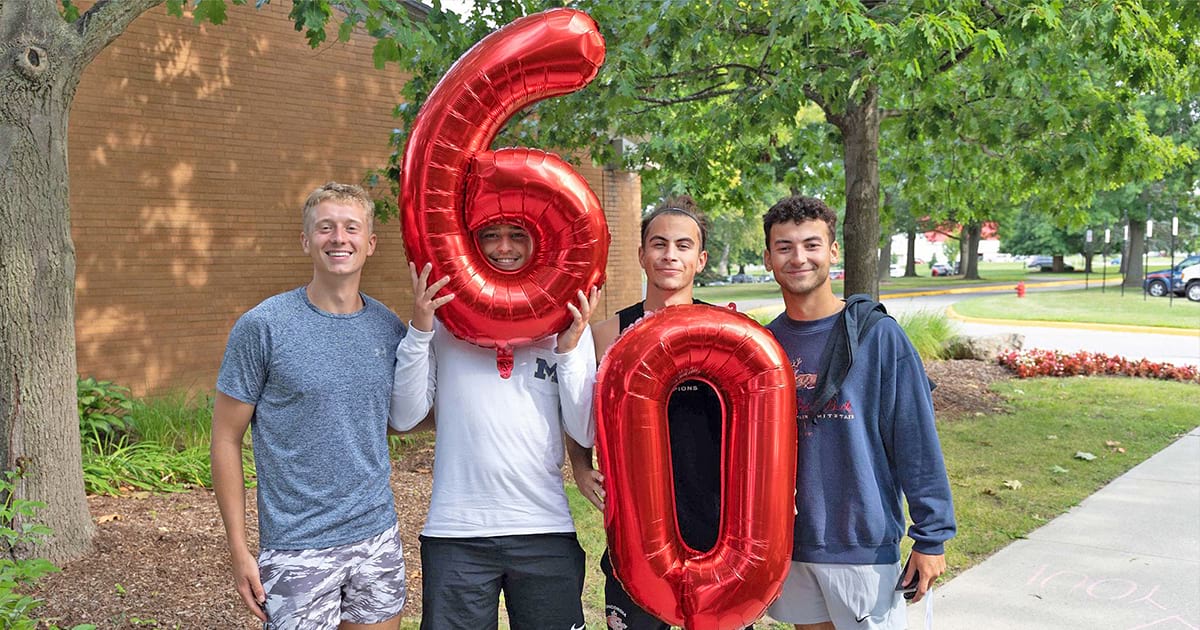 The monthly "Campus Clips" column includes brief reports from LCMS day schools, universities and seminaries.
Token of appreciation
River Roads Lutheran School has been serving the Baden community of North St. Louis, Mo., since 1869. During Teacher Appreciation Week in May, the school community received afghans made by the TLC Quilters in Algona, Iowa. Dr. Alan Freeman, director of LCMS School Ministry, also visited. The faculty and staff of River Roads send their sincere thanks to Freeman, the TLC Quilters and to all who support and pray for those carrying out the Lord's mission in Lutheran schools. 
Say 'yes' to CUNE
Concordia University, Nebraska (CUNE), Seward, Neb., is launching a new undergraduate campaign called "Be Known" to emphasize the university's commitment to offering excellent academics within a Christ-centered, Lutheran community.
"At Concordia, we want our students to be able to say 'yes' to four questions," said Dr. Bernard Bull, CUNE president: "Have I found my people? Do I feel valued and sought after by someone I respect? Can Concordia, Nebraska, help me accomplish or discover goals for my future? Has Concordia removed financial barriers that would keep me from attending, flourishing and graduating? This new campaign will, prayerfully, help prospective students to see that the answer to these questions is 'yes' for them." 
Examples of the "Be Known" campaign can be found at cune.edu/here. 
Musical outreach
Concordia University, St. Paul (CSP), St. Paul, Minn., welcomes Paul Von Kampen as director of Choral Activities and Church and School Relations Through the Fine Arts. An accomplished educator, conductor and performer, Von Kampen is completing his Doctor of Music Arts in choral conducting at the University of Nebraska, Lincoln, Neb. In his role at CSP, Von Kampen assumes responsibility for directing the university's choral ensembles and creating a robust performance schedule on campus and in schools and congregations. 
Creating access
Concordia University Chicago (CUC), River Forest, Ill., has been awarded a grant of $62,790.48 from the Consortium of Academic and Research Libraries in Illinois through Illinois SCOERs: Support for the Creation of Open Educational Resources. CUC will use the grant to prepare College of Business students by updating required content in two core courses with open access materials, which will be available for the Fall 2024 semester.
Adopting open access textbooks and creating open access ancillary materials for two required business courses will help reduce textbook cost and accessibility barriers for all undergraduate business students. Dr. Elisabeth Dellegrazie, assistant professor of marketing, said, "Through the elimination of expensive textbooks in these courses, CUC is demonstrating their commitment to the university mission by ensuring that students have the resources needed to develop in their academic and professional vocations."
Learning for life
Continuing Education Studies at Concordia University Wisconsin (CUW), Mequon, Wis., create innovative, lifelong learning opportunities for students. These flexible, accessible learning experiences are for all ages: youth, young adults, working professionals or those on their retirement journey. To learn more about Continuing Education opportunities at both CUW and Concordia University Ann Arbor (CUAA), Ann Arbor, Mich., visit continuinged.cuw.edu. 
60 years of grace
Did you know that CUAA turned 60 this year? Founded in 1963, the university has now seen six decades of God working in the hearts of students, faculty, staff and alumni. This year also marks the 10th anniversary of the merger of CUAA and CUW. Learn more about CUAA and its history at blog.cuaa.edu/history-60-years-ago.
Learning through mission
Partnering with members and friends of Shepherd of the Valley Lutheran Church, Navajo, N.M., students at Concordia University Irvine, Irvine, Calif., participated in a mission trip to the Navajo reservation. They learned about Navajo culture through traveling and visiting cultural sites and conversing with members of the congregation. The students were able to learn about Native American culture in relation to Gospel proclamation by talking with Shepherd of the Valley's pastor, the Rev. Tim Norton, and through hands-on practice.
Future plans
Concordia Seminary, St. Louis (CSL), has introduced a campus plan centered on augmenting its iconic campus for the next century of academic and theological leadership. Building for Community: The Campus Plan for Concordia Seminary provides a framework for shaping the seminary's physical environment to better serve the needs of students, faculty, staff and, ultimately, the congregations and ministries of the LCMS.
The plan includes new student housing, refurbished historic buildings, new athletic facilities and a new welcome center. "The campus plan is aimed at stewarding and enhancing the seminary's campus to ensure our spaces serve the needs of our seminarians and scholars now and into the future," said CSL President Rev. Dr. Thomas J. Egger.
Additional information about the campus plan, including renderings of the proposed student housing and a downloadable brochure, is available at csl.edu/campus-plan.
Record attendance
Christ Academy High School, held June 18 through July 1 at Concordia Theological Seminary, Fort Wayne (CTSFW), welcomed 92 students from throughout the United States — the largest class ever in the program's 24-year history.
Open to entering freshmen through seniors, Christ Academy is split into two groups, Timothy School for young men and Phoebe School for young women. Timothy School students explore pastoral ministry, while Phoebe School students study God's Word on mercy. 
"Christ Academy is two weeks of the best that CTSFW has to offer," said Sam Bohnet, an Academy proctor. "Students receive world-class instruction from pastors and seminary professors, interspersed with enriching worship and time spent having fun with like-minded Christian high schoolers from all over the country. Everyone who attends goes home with a new appreciation for theological study and extensive knowledge to go with it."
The next Christ Academy will be held at CTSFW June 16–29, 2024.
Posted Aug. 15, 2023