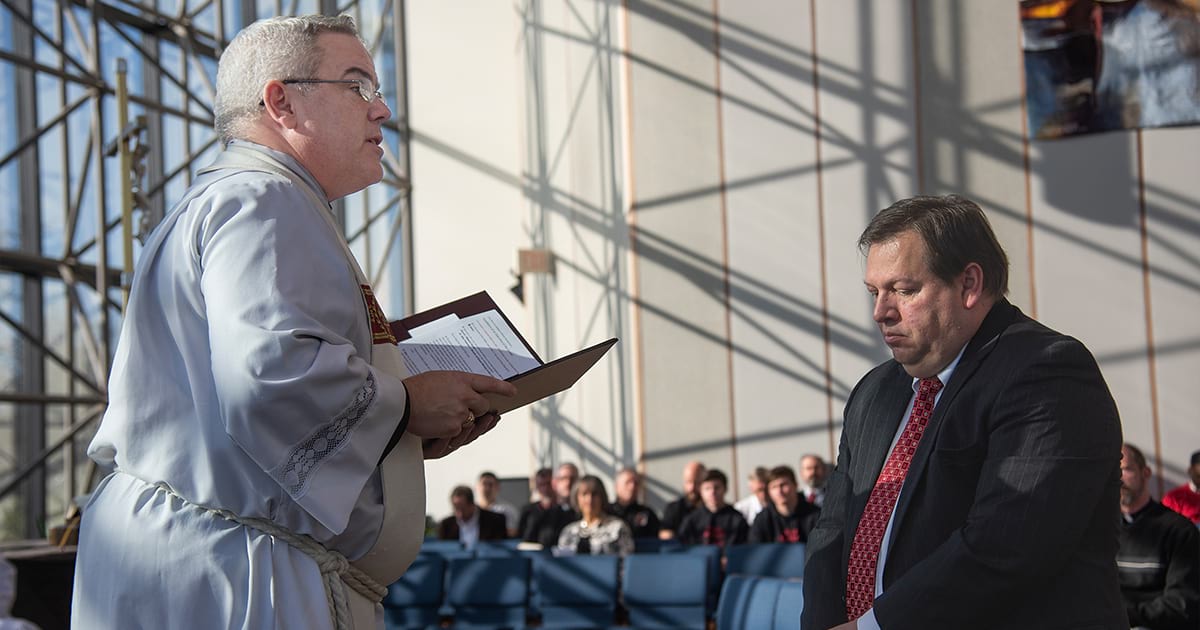 On Jan. 11 during daily chapel at The Lutheran Church—Missouri Synod (LCMS) International Center (IC) in St. Louis, Dr. Alan Freeman was installed as the director of LCMS School Ministry. He previously served as the associate director of School Ministry. Freeman replaces Dr. Rebecca Schmidt, who retired in November 2022 after serving as director since 2018.
LCMS Missouri District President Rev. Dr. R. Lee Hagan served as installer at the service, and LCMS Chief Mission Officer Rev. Kevin D. Robson served as liturgist. LCMS President Rev. Dr. Matthew C. Harrison gave the homily, preaching on Isaiah 42:1–7. Harrison said, "Isaiah gives [the Lord's] promise to the church. … That promise is to God's people. That promise is to our schools. That promise is to our teachers. That promise, Al, is to you. … 
"So many are confused today. So many need the clarity of … God's own precious Word. … God grant us the strength to give it, to speak it, to teach it … in the name of the Father, and of the Son and of the Holy Spirit. Amen."
Freeman first began serving at the IC in February 2022. Previously, he served the LCMS Missouri District, where he worked with 111 schools as education executive. He also served as headmaster of Concordia Preparatory School in Towson, Md.
Freeman has a bachelor's degree in secondary education from Concordia University, Nebraska, Seward, Neb.; a master's degree in education administration and supervision from Concordia University Wisconsin, Mequon, Wis.; an education specialist degree from the University of Nebraska at Kearney in Kearney, Neb.; and a doctorate in educational leadership from the University of Arkansas, Fayetteville, Ark. He participated in the Association of Lutheran Secondary Schools Leadership Development Program in 2002 and in the Van Lunen Fellowship Program in 2013.
 He previously served as president of the Missouri Council for American Private Education and as vice-president of the Missouri Nonpublic School Accrediting Association.
As director of School Ministry, Freeman will equip, assist and uplift school educators, district staff, education executives and congregational leaders so that, through them, children may be equipped as disciples of Jesus Christ.
Reflecting on his new role, Freeman said, "It is an exciting time for Lutheran schools as we continue to see growth in enrollment, Lutheran school starts, new school models, and the Set Apart to Serve initiative to retain and recruit Lutheran educators. The mission of Lutheran school ministry is and always has been clear: to provide a Christ-centered education of excellence that shares the Gospel message."
Freeman and his wife, Kristin — who serves in Life Ministry at the IC — have two children, Holly and Samuel, both of whom graduated from Lutheran High School of St. Charles County in St. Peters, Mo., and now attend the University of Arkansas in Fayetteville.
Learn more about LCMS School Ministry at lcms.org/schools.
Posted Feb. 22, 2023