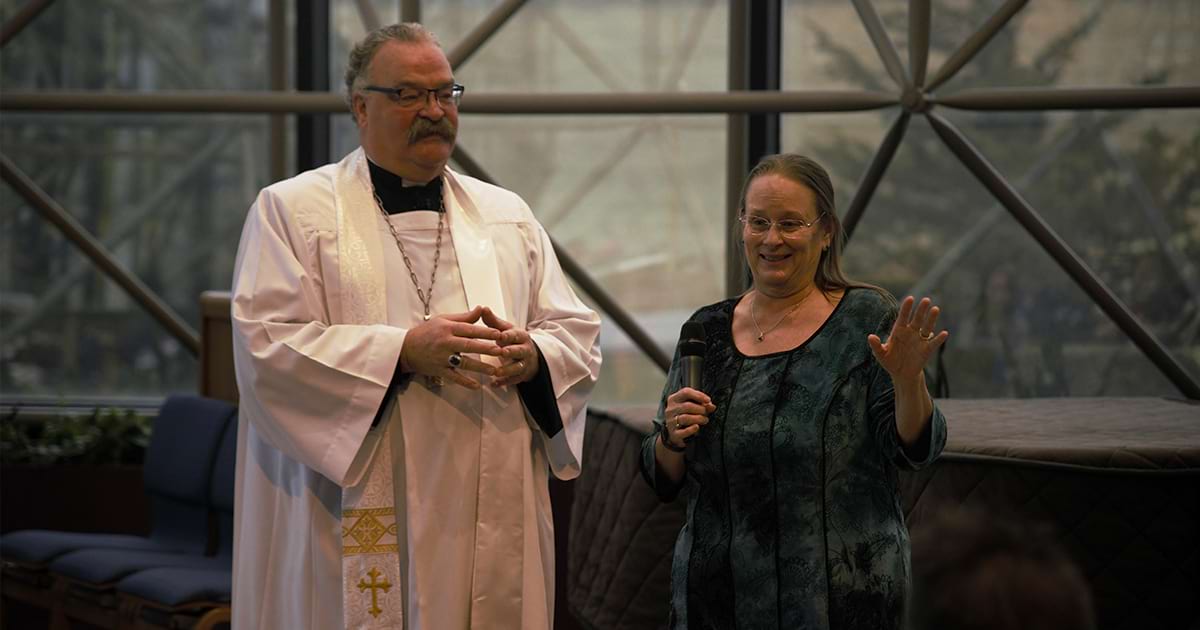 By Sarah Reinsel
The Lutheran Church—Missouri Center (LCMS) International Center (IC) celebrated the retirement of two long-serving employees, Barb Knehans and DCE Jim Lohman, on Jan. 5 and 6, respectively. 
Knehans, manager of reception services, was the IC's longest-tenured employee, having worked for the Synod for over 43 years. Lohman, director of LCMS Servant Events and associate director of LCMS Youth Ministry, has spent almost 40 years in ministry, including nearly 21 years at the IC.
Both Knehans and Lohman were key behind-the-scenes organizers of some of the Synod's biggest events: Knehans has helped run the Synod convention since 1986, and Lohman the LCMS Youth Gathering since 2002. 
"We have similar jobs, Barb with the convention and me with the Youth Gathering, so it's always been great to have her as a sounding board," said Lohman. "With these events, it's important to have a calming presence, too. She would be one for me during the Youth Gathering, and I would be one for her during convention." 
Their dedicated service and humble presence, throughout big events and daily work alike, will be greatly missed.
Getting the job done
"Life without Barb at the IC will take some 'getting used to,'" said an announcement from the Synod's Department of Human Resources.
In 1979, Knehans started work at the old Synod headquarters on 500 N. Broadway in St. Louis as a temporary employee for Lutheran Church Extension Fund. She then worked as a receptionist for the LCMS Foundation before moving to the General Services department, working first as a purchasing agent and later as a manager of purchasing services. Knehans then served as the building operations manager and director of facilities for 24 years. In her final post at the IC, Knehans was the manager of reception services for the Operations and Support Services department.
"Over all these years, the people have been the most fun," Knehans said. She especially enjoyed the Synod convention for its bustle and variety of people. 
"I like convention because I enjoy being busy and I enjoy the people. You meet such a diverse group of people [at the] convention," said Knehans. "I've gotten to see a lot of the things happen. I've always enjoyed keeping things rolling through convention and making sure that everyone has what they need to work."
As the resident expert on all the goings-on of the building, past and present, Knehans has seen it all. 
When the Synod headquarters moved to the new building on Lindbergh in 1983, Knehans helped organize the move. 
"It was a lot of work. Back then every [executive] going back into the [1940s] had five filing cabinets," said Knehans. "There were 150 filing cabinets that needed to be moved."
Knehans said she sent the majority of the cabinets to Concordia Historical Institute (CHI) for sorting and archiving.
When the new building was finished, Knehans said that the Missouri Department of Conservation came and stocked the lake. 
"I don't think there are many catfish left in there anymore, but there's bluegill, sunfish, bass," said Knehans, a dedicated fisher.
Knehans' wealth of knowledge and long experience at the IC equipped her well for emergency situations. When Hurricane Katrina struck New Orleans in 2005, Knehans sprang into action. 
"She worked to get the whole phone bank up, which we needed to serve the people in the South and to receive all of the calls of people who wanted to donate," recalled the Rev. Dr. Matthew C. Harrison, LCMS president. "It was absolute chaos. But she just handled it."
"She is one of many constant, devoted people who love Christ and their church," said Harrison. "She made sure the building functioned and the job got done, humbly, every day. She sought no attention. Day in and day out, she did a fantastic job honoring her vocation to serve the church."
Even though she won't be at the front desk anymore, Knehans can still be found volunteering on Wednesday mornings at the CHI Museum on the second floor of the IC. Knehans also plans to enjoy her summers trout fishing with her husband, Bob, and work on settling into their new home.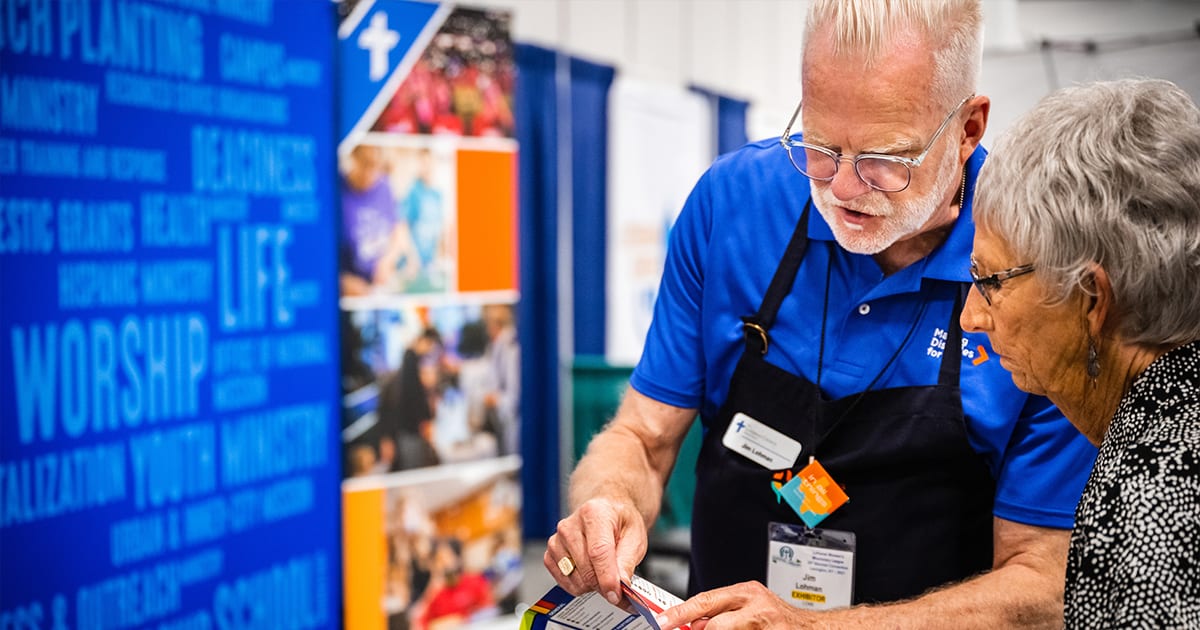 Bringing people together
"Jim is a servant leader," said the Rev. Dr. Mark Kiessling, director of LCMS Youth Ministry. "He's one that will proactively serve … he will not wait to be asked when people need Jesus and to be encouraged in Christ. So many times, when we've gone through trials … Jim is always the one who will bring us back to Christ and the bedrock of faith that we have."
Lohman has served the Synod's youth for nearly 21 years at the IC, and his time in ministry stretches to nearly 40 years.
Before coming to the IC, Lohman served as a parish director of Christian education (DCE), and then as a director of Christian education specialists at Concordia Publishing House. His first experience in ministry came in ninth grade, when he was asked to teach Sunday school to a first-grade class. He was also active in campus ministry at Missouri State University in Springfield. He says his grandfather, a church and school custodian, was his example for serving Christ and His church.  
As director of LCMS Servant Events, Lohman has overseen many summers full of opportunities for the Synod's youth to volunteer and be trained up in Christlike service to others. The Servant Events program, which has run for over 30 years, helps various LCMS congregations, camps and service organizations host volunteer events ranging from construction projects, to outreach, to human care.
As director of arrangements for the LCMS Youth Gathering, Lohman oversaw purchasing and hospitality. He also worked with the exhibitors, sponsors and special guests involved with the Gathering.
Purchasing for such a large event involves attention to detail and a vast spreadsheet. Lohman coordinated everything from ordering 20,000 backpacks for all of the youth in attendance, to stocking the Gathering store with T-shirts and other products, to making sure that everything was in place for the closing worship. He saw to it that the choir had their music binders and pencils, and that the communionware, uniquely commissioned for each Gathering, was ready for use. 
"He is always looking out for the needs of others in so many ways, everything from food and physical needs to spiritual needs," said Kiessling.
Hospitality, Lohman said, is key for bringing people together. "The number one piece that has stuck with me are the relationships. That's really what ministry is all about," said Lohman.
"I think that's the most important thing I've learned through the years — [it's] the key to developing relationships, to caring, to serving." 
In retirement, Lohman looks forward to working on home projects with his wife, Andrea, and visiting their children in Hawaii and San Diego.
Posted Feb. 21, 2023