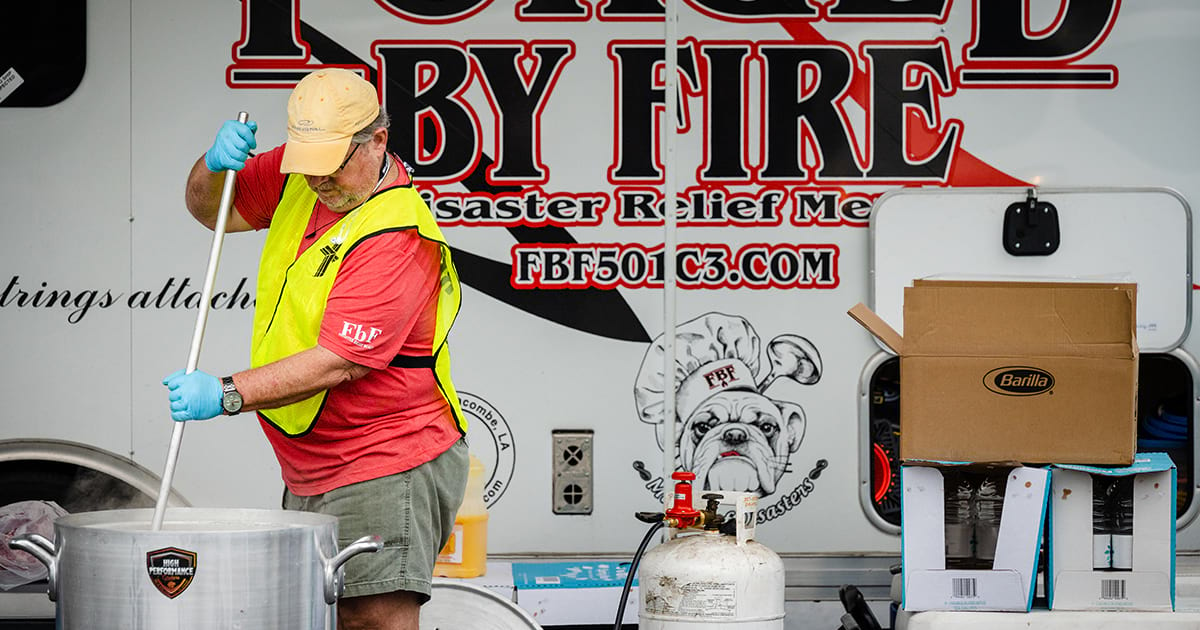 By Sarah Reinsel
On Jan. 12 a tornado tore through Selma, Ala. It was part of a larger storm system that affected dozens of counties in Alabama and Georgia.
The tornado's path went straight through Selma's downtown area, destroying buildings, blowing over trees and power lines, and causing significant damage to the homes of hundreds of residents. There were no casualties in Selma.
On Jan. 14, the Rev. Dr. Ross Johnson, director of LCMS Disaster Response, alongside the Rev. Ed Brashier, district disaster response coordinator for the LCMS Southern District, visited Selma to assess the damage and develop an action plan, partnering with the Rev. Steve Washington and his congregation, Trinity Lutheran Church in Selma, to provide relief for those affected by the tornado. 
Using Trinity as a base, the LCMS Recognized Service Organization (RSO) Forged by Fire provided around 3,200 meals to people affected by the storm. Trinity also hosted a Lutheran Early Response Team (LERT), led by Brashier, for four weeks. Deaconess Kathy O'Day, disaster response coordinator for RSO Lutheran Church Charities, also brought a team down from northern Illinois to volunteer for a week and a half. 
For one meal, handed out by means of a makeshift drive-thru in Trinity's parking lot, the Forged by Fire cooks combined 80 pounds of ground meat, more than 60 pounds of vegetables, 12 pounds of garlic and 60 #10 cans of pasta sauce into one enormous pot. Another enormous pot of noodles simmered nearby. This batch of pasta would feed about 800 people.
"I always like to think it's our way of giving a little hope. … We get to model the love that Christ has given us to our neighbors," said the Rev. Paul Ernewein, director of Forged by Fire. "It's not just a bowl of food. … It's a bowl of hope."
Each car, on its way out, stopped at the prayer tent, where the Rev. Dr. McNair Ramsey or the Rev. Tom Noon took a few moments to pray with the driver and other passengers and distribute Disaster Response resources and information about Trinity Lutheran Church. Ramsey is first vice-president of the Southern District, and Noon is retired.
The LERT volunteers provided free chainsaw work and tree removal to underserved homeowners in Selma. This mercy work creates numerous opportunities for praying with people and bearing the love of Christ to them.
"A lot of [the homeowners] ask us why we come so far and do this for nothing. And that's where we get to witness and tell them … 'through the grace of God, we've been blessed. We want to be a blessing to you in return.' … People cry. People pray with us, we pray with them. And it's just an easy way to help your neighbors [as] you would want them to come and help you," said Dave Schlesselman, a LERT volunteer and member of St. John Lutheran Church in Wheaton, Ill. 
Latanya, a Selma resident, was one of the many homeowners assisted by LERT volunteers after a tree fell on her roof. 
She was at home when the tornado struck. "I just heard this horrible sound like a roaring train. … My window started shattering, and I heard the wind blowing so ferociously," Latanya said. A few moments later, the tornado passed, and her husband burst into the room to tell her a tree had fallen on the house.
Latanya got in touch with the LERT volunteers through a flyer after several dead-end attempts to seek help elsewhere. "I called Pastor Ed [Brashier] on Saturday … and now they're here, just like they said they would [be]," she said.
The LERT volunteers had the difficult task of gingerly removing the tree without damaging the roof further.
"We've experienced so much devastation, but it's so heartwarming to know that there are people that care about us that don't even know us. And y'all are here working so diligently and free of charge. … You don't get that too often, so we're very grateful," said Latanya. 
"It was so heartbreaking … to go across town and see that area devastated," she continued. "I don't think we'll ever be able to be the same, and I'm not saying we can't rebuild, or you can't get houses back and material things. … But it has brought this community together as well, and we've had so many people from … other states … come in and help. We're just so truly grateful for it."
As this issue went to press, the LERT volunteers had served 50 homeowners during their first few weeks of work in Selma. The Trinity LERT camp hosted around 20–25 LERT volunteers each week. 
"It's amazing that so many people come from so far. We're doing it because we can … help out our fellow neighbors, even though they're far away," said Janet Hill, a member of St. John's Lutheran Church in East Moline, Ill. "[We're] blessed to be able to have the health and the ability … to be here." 
Anyone can become a LERT volunteer and bear Christ's love to people in need in times of disaster. Training sessions are held across the country throughout the year.
"Go," said Hill. "Go get trained. I think anybody can do it. We all have our talents. … Just give a little bit of your time and come out here, and God gives … the rest." 
Find information on scheduled LERT training sessions and future deployments at lcms-lert.org.