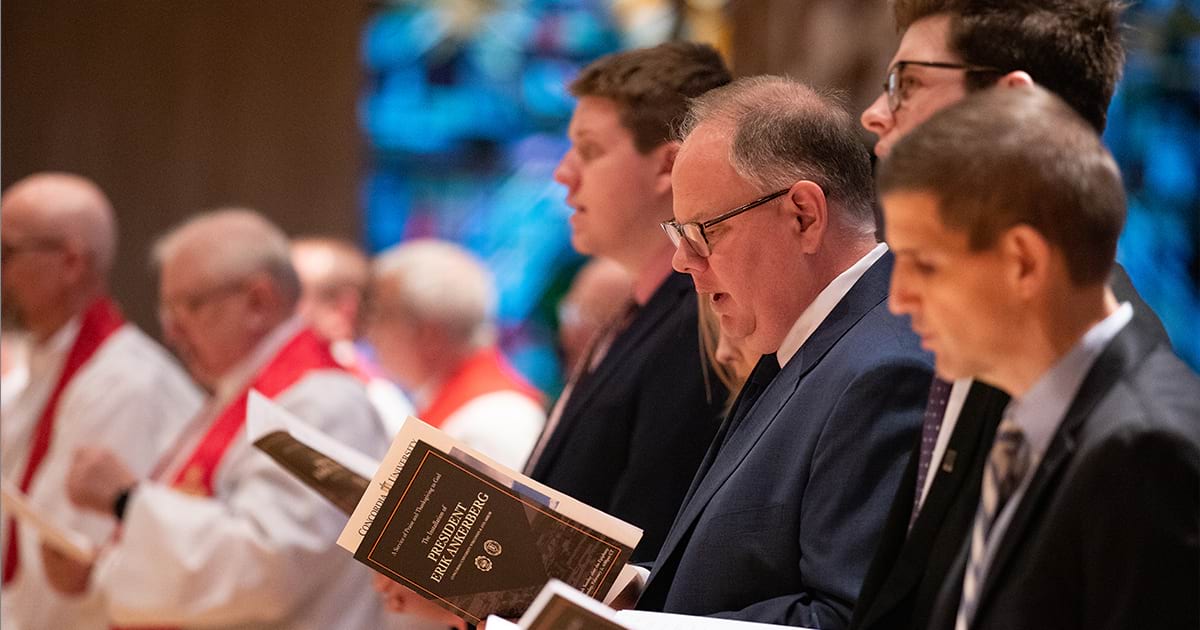 On Feb. 5, at Concordia University Wisconsin (CUW), Mequon, Wis., Dr. Erik P. Ankerberg was installed as president of CUW and Concordia University Ann Arbor (CUAA), Ann Arbor, Mich. LCMS President Rev. Dr. Matthew C. Harrison officiated for the installation, which was held in CUW's Chapel of Christ Triumphant and livestreamed to the CUAA campus. The Rev. Dr. Mark Nuckols, pastor of Our Father's Lutheran Church in Greenfield, Wis., preached for the service, and the Rev. John Berg, associate pastor of Trinity Lutheran Church in Sheboygan, Wis., served as liturgist.
After Ankerberg's installation, Harrison said, "I am delighted that the CUWAA Board of Regents chose Dr. Ankerberg as president. His proven commitment to the Scriptures and Lutheran Confessions and his demonstrated administrative capability make for a hopeful future. Our cherished university continues its mission to provide church workers and dedicated Lutheran and Christian lay leaders for many vocations. 
"I'm confident Dr. Ankerberg will provide a kind but firm course correction where needed and encourage what has been a robust theological faculty at the school."
Ankerberg's professional background includes nearly 15 years of experience in leadership positions at Lutheran institutions of higher education. He served as provost at Concordia University Chicago (CUC), River Forest, Ill., and Concordia University Texas, Austin, Texas. In addition, he served as assistant provost, department chair and faculty member at Wisconsin Lutheran College in Milwaukee, and as interim president at CUC (summer 2019). He also taught at CUAA and CUW early in his career. 
Ankerberg holds a Ph.D. and Master of Arts in British Renaissance Literature from Marquette University in Milwaukee. He earned his bachelor's degree from CUC. He is currently pursuing pastoral ordination within the LCMS. 
Ankerberg said, "I am honored to have been called to serve as president at CUWAA. Because of our Lord's gracious care, as well as a legacy of strong leadership, this university has produced generations of graduates who faithfully serve their neighbors in the church and the world. We will continue, by God's grace, to strengthen our relationship with the church, provide an extraordinary education to our students, and prepare them thoroughly for the vocations to which our Lord has called them."
Ankerberg began his tenure with the university on Jan. 9. He has been married to his wife, Jennifer, for 27 years and they have two sons, Peter and David. 
Posted on Feb. 23, 2023/Updated March 2, 2023