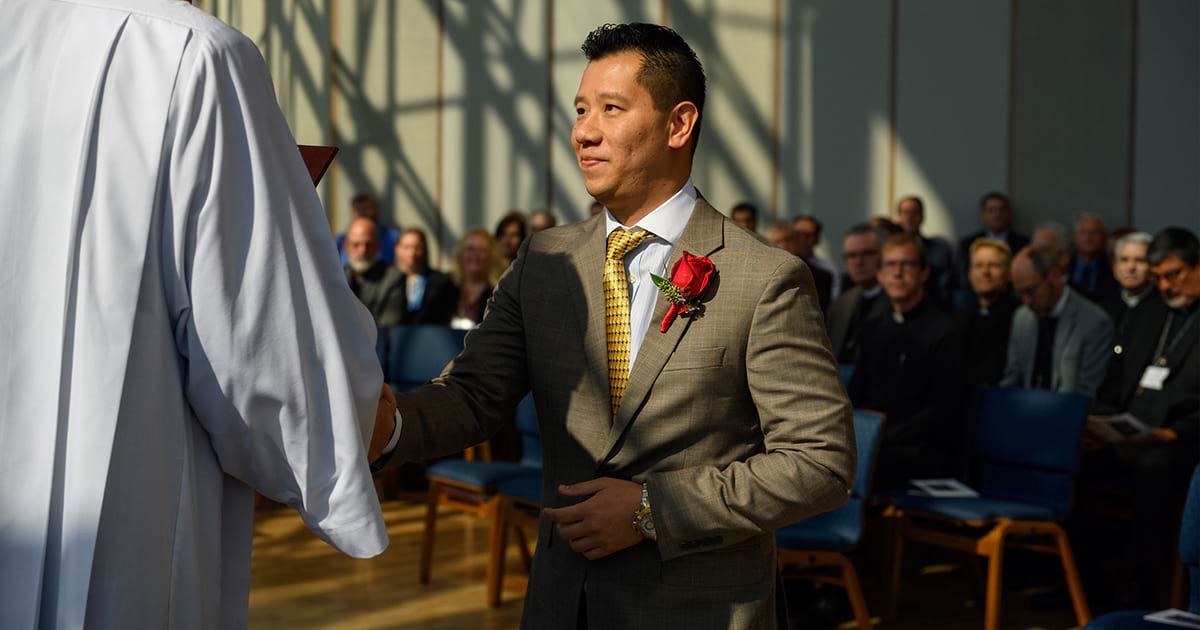 By Cheryl Magness
On Sept. 14, during daily chapel at The Lutheran Church—Missouri Synod (LCMS) International Center (IC) in St. Louis, Felix Loc was installed as LCMS chief administrative officer (CAO). He replaces retiring CAO Frank Simek, who has served in the position since 2017.
Preaching for the service, which took place on Holy Cross Day and included the dedication of a new chapel crucifix, the Rev. Dr. Daniel Preus said, "There could be no day more suitable for your installation, Mr. Loc. … May God greatly bless you in all the work you do, and may He bless the proclamation of the Gospel that takes place here at the International Center of our beloved church in order that Christ may be clearly proclaimed." 
Loc previously worked as a pension benefits administrator for Fidelity Investments, Willis Towers Watson and October Three Consulting. In these roles, he served large and mid-market clients such as Shell Oil, Pitney Bowes, IBM, KPMG and Kodak, processing calculations and payments, leading bulk lump-sum projects, and managing data cleanup projects and process improvements for his clients. He also worked in client relations and managed third-party relationships with banks and actuarial firms.
Loc was born in Lima, Peru. His family moved to Southern California when he was a child, and he attended grades K–12 there. After high school, he attended Baylor University in Waco, Texas, where he met his wife, Jessica. After graduation, they moved to Albuquerque, N.M., where Jessica pursued a law degree at the University of New Mexico.
The Locs spent five years in Albuquerque — where they were catechized into the LCMS at Grace Lutheran Church — before moving to Boston for four years. For the past five years, they have lived in Keller, Texas, where they attended Messiah Lutheran Church. In addition to his professional experience, Loc has served on the boards of regents of Concordia University Chicago, River Forest, Ill., and Concordia Seminary, St. Louis.
Loc said he is grateful for "faithful Lutherans throughout the generations being steadfast to God's Word," without whom "I would not be a Lutheran today. … I had a great career in the Defined Benefits industry, but nothing compares to supporting the mission of Christ. Frank [Simek] has been instrumental in helping me learn the role [of CAO], along with all the great people at the IC, who have welcomed me with open arms. I look forward to building upon that in the years to come. I'm grateful to President Harrison and the Board of Directors for entrusting me with this task."
A farewell is planned for Simek in the near future.
The Locs have been married for 16 years and enjoy traveling and visiting wineries and breweries around the country. Felix enjoys playing ice hockey and plans to find a St. Louis league to join. Jessica works for the Department of State and does real estate on the side.
View a livestream of Loc's installation and the crucifix dedication.
Posted Oct. 9, 2023