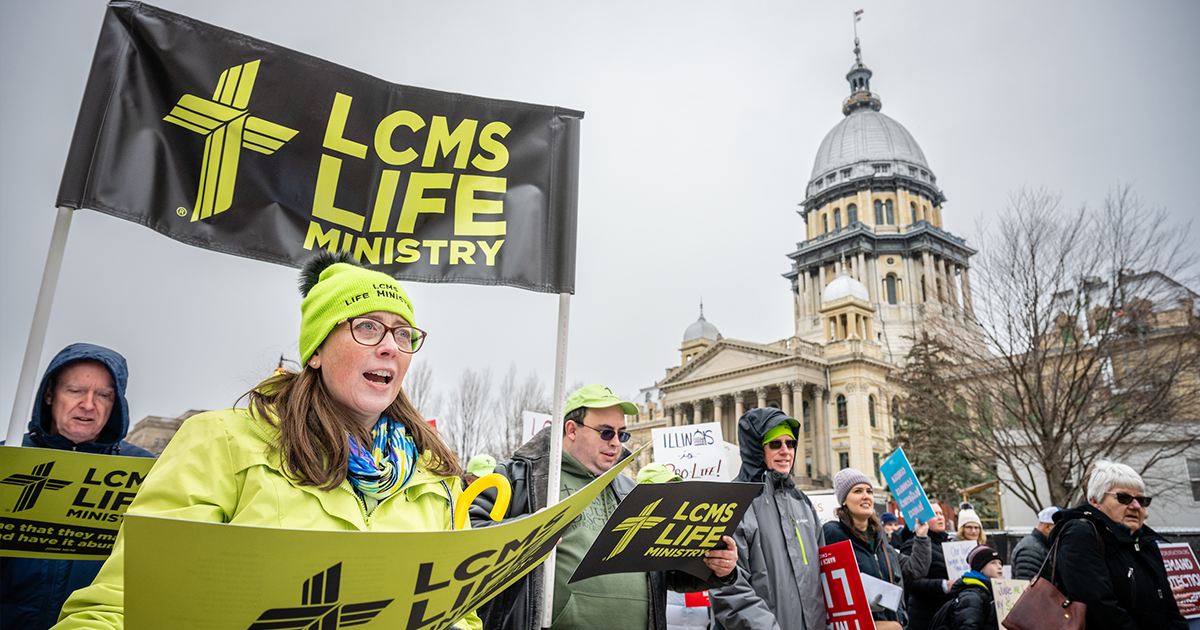 ---
By Sarah Reinsel
On Tuesday, March 21, Lutheran Church—Missouri Synod (LCMS) groups from across Illinois gathered at Trinity Lutheran Church in downtown Springfield for the Illinois March for Life, which was sponsored in part by the LCMS Office of National Mission. Located across the street from the Illinois Capitol, Trinity was perfectly situated to host those attending the march, which started less than a block away.
Speaking at the rally before the march, LCMS President Rev. Dr. Matthew C. Harrison said, "Be of good cheer. The cause is just." (Read his full remarks.)
The Illinois March for Life, formerly the March for Life Chicago, was moved to the Illinois capital this year to demonstrate the importance of advocating for pro-life legislation at the state level. With the fall of Roe v. Wade in 2022, LCMS Life Ministry has joined many other pro-life organizations in emphasizing the importance of advocating at the state and local level in addition to caring for families facing beginning-of-life challenges.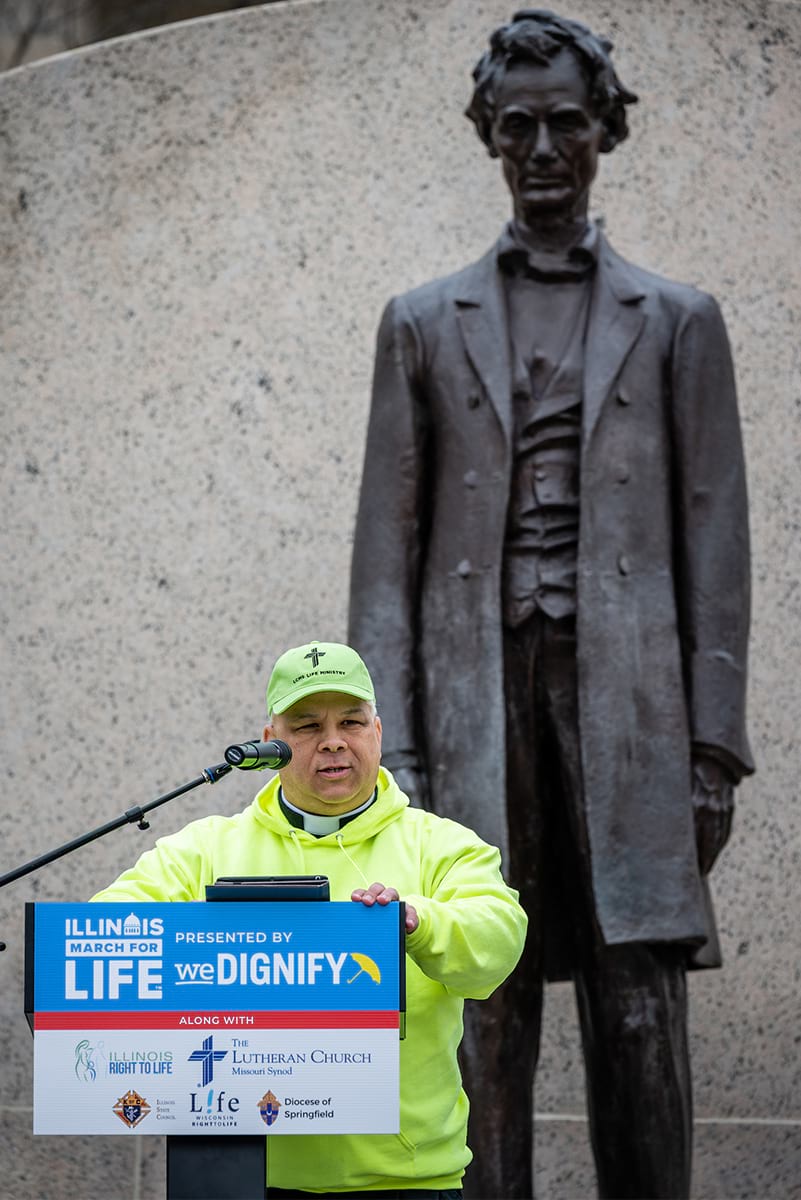 "Protect the child and her mother. This is the task, set before us as neighbor and citizen, in God's holy Word, [on] this and every day," said the Rev. Michael Mohr, president of the LCMS Central Illinois District (CID), preaching for Trinity's Matins service before the march.
In recent years, the Illinois state legislature has rolled out policies that make abortions more accessible. According to the Illinois Public Department of Health, 46,243 abortions were performed in Illinois in 2020 alone (more than all of Illinois' neighboring states combined), with roughly 10,000 women coming from out-of-state for abortions. 
Changing hearts
LCMS families, students and church groups came from all over Illinois for the march. Many felt compelled to attend out of concern over the state's increasingly pro-abortion direction.
"[I hope that] we might move some people's hearts to be changed, and that there would be more movement at our Capitol to change some of the policies at the state level," said Renee Donaldson, a member at Trinity Lutheran Church in El Paso, Ill. Donaldson, along with many others from her congregation, serves as a volunteer at Hope Pregnancy Center in Pontiac, Ill. 
Members of Trinity, Springfield, were delighted by the turnout — especially the number of young people present.
"[It's great that] we've seen a lot of teenagers. And we've seen a lot of little kids — that's … great too. We're happy to see all ages," said Karen Summers, a Trinity member who volunteered to hand out sandwiches at the lunch the church hosted before the march.
Denise Hennig, music teacher and school secretary at Christ Our Rock Lutheran High School in Centralia, Ill., brought a group of her students to the march.
"I just want [young people] … to be able to … be around other people that really support life," said Hennig.
Before the march began, participants gathered for a rally in front of the Capitol. Representatives from pregnancy resource centers and pro-life nonprofits spoke, as well as the Roman Catholic bishop of the Springfield diocese, Illinois State Representative Dr. William E. Hauter, CID President Mohr, and Harrison.
The LCMS contingent showed up in their customary lime green hats, praying the Lord's Prayer, confessing their faith in the Apostles' Creed and singing hymns (with the verses printed for easy reference on the back of LCMS Life Ministry signs). The march's route looped around the Capitol, after which the building was open for Illinois residents to speak with their state representatives about their concerns over abortion-related legislation.
Zion Lutheran School, Mount Pulaski, Ill., was one of the many Lutheran schools that sent student groups to the march.
"We should support women who are pregnant," said Addison Hall, a sixth grader at Zion.
"Everyone should have a chance on living. Even if sometimes people have disabilities when they are born, they still need a chance to survive," added Addison's sister, Isabelle Hall, a seventh grader at Zion.
Get involved
There are many ways to support the cause of life in your home, church and community. Find out more at: 
Photo gallery
View more photos from the 2023 Illinois March for Life.
Posted April 27, 2023