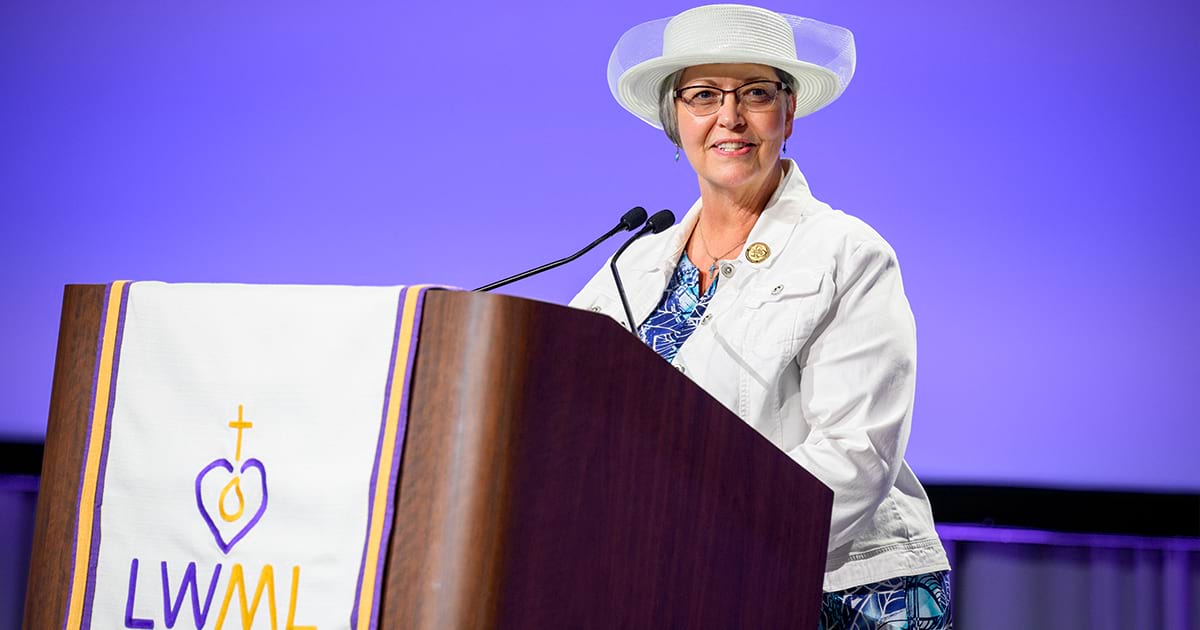 By Stacey Egger
At the 40th Biennial Lutheran Women's Missionary League (LWML) Convention, held June 22–25 in Milwaukee's Baird Center under the theme "Celebrate the Lord of the Nations," the LWML set a mission goal of $2.35 million — $200,000 more than the last biennium and the LWML's highest mission goal ever. LWML voting members set the goal by electronic vote a month ago. During the convention, which had over 3,500 attendees, the voting assembly selected 31 mission grants to fund from a slate of 45 grant proposals. 
The assembly also elected the next LWML president: Eden Keefe of Overland Park, Kan. Keefe has previously served the LWML as the Christian Living editor for Lutheran Woman's Quarterly and as vice-president of Christian Life. She will serve as LWML president for the next two bienniums. 
Grant recipients for 2023–2025 include Orphan Grain Train, Dakota Boys and Girls Ranch, Journeys Lutheran School, Lutheran Braille Workers and more. A full list of mission grant recipients can be found at lwml.org/mission-grants.
80 years of impact 
The LWML celebrated 80 years in 2022. In that time, LWML mission grants totaling $28.9 million have supported work in 83 countries. 
Speaking to the convention, Lutheran Church—Missouri Synod (LCMS) Asia Regional Director Rev. Charles Ferry said, "Our partner churches … know the LWML. I have lost track of how many times I have gone to visit our church partners, and we've heard directly from them that … this program, this building, this operation is here because of the work of the LWML. Praise be to God. You are leaving a legacy behind you that is living and active because it is the Word of God."
"Thank you for your fidelity," said LCMS President Rev. Dr. Matthew C. Harrison in his address to the convention. "You are the rock rib of the Missouri Synod — you ladies who make it all happen, who keep those church basements hopping, the outreach going … the Bible being studied, and all so much more. … God bless you all and thank you, thank you, thank you."
Several organizations that received grants at the 2021 LWML convention thanked the women of the LWML from the main stage during "Mites in Action" presentations: 
The Rev. Dr. Steven Schave, executive director of the LCMS Recognized Service Organization (RSO) Lutheran Association of Missionaries and Pilots (LAMP), described how the grant enabled LAMP to extend its mission to more remote indigenous communities in Northern Canada. This year alone, 31 volunteer teams will reach 31 communities with the Gospel. "Sisters in Christ, you have been His witnesses to the ends of the earth through your support of LAMP ministries," said Schave.
Phil Zielke, founder of the RSO Phil's Friends, described how the grant brought hope and the message of Christ to cancer patients across the country in the form of care packages containing a Bible, blanket, cards of encouragement and more. Phil's Friends will reach the 50,000 mark this year in total care packages delivered. 
The Rev. Doua Xiong, pastor of St. Paul Lutheran Church in Merced, Calif., described how the grant enabled Hmong materials and outreach in his community. The congregation saw nine Baptisms in 2022 and has already seen another five in 2023. 
'Never alone'
For convention attendees, the biennial gathering is an opportunity to see how their local congregations can make a significant impact as part of something larger than themselves.
"It's very encouraging," said Kris Brandorff of Holy Cross Lutheran Church in Wichita, Kan. Brandorff has been a part of the LWML for over 40 years and attended two other national conventions. "You can see that there are more women like us all over the country. You're never alone, even if you're in a small town." 
"[The mission speakers show] what your money has done, what it has multiplied into, and the work that they're doing with little bits of mites that we give every week," said Karen Ard of Grace Lutheran Church in El Dorado, Kan.
Kathryn Kirby of Trinity Lutheran Church in Stewardson, Ill., has attended 17 other national LWML conventions. "It's just amazing what our mites do," Kirby said.  "When you're here, you really feel like, 'Wow, I'm a part of this Synod.' "
"You figure out that with the thousands of people here, they're representing 10 [or] 20 women back home that weren't able to come," said Ruth Mueller of Pilgrim Lutheran Church in Wauwatosa, Wis. Mueller, alongside her husband, Gary, served as a host district volunteer at the convention.
'A light to the nations' 
In an apt display of the convention theme, the second full day of the convention began with a procession of flags representing the 83 nations in which LWML grants have supported mission work. 
Nicole Boeder, a member of Trinity Lutheran Church in Springfield, Ill., and a former LCMS missionary teacher in South Africa who has also served on several short-term mission trips, helped carry the Kenya flag. 
"I just love the verse in Revelation about all the peoples from every tribe and nation. We're all going to be gathered together in heaven, and this is kind of a reminder of [that]," said Boeder, shortly after completing the procession. 
During two morning Bible studies led from the main stage, LWML Nominating Committee Chairman Kaye Wolff unpacked the convention theme, based on Psalm 33:12–13. Wolff traced God's saving work through the history of Israel and the person and work of Christ:
"God [gave Abraham and Sarah a child in their old age] so that, through them, God could bring salvation to the world through their descendant, the promised Savior of the world, our Jesus, the Christ. … God established Israel to be a light to the nations … so that God could draw all people to Himself, that all might know His salvation and be saved." 
20 years of Heart to Heart Sisters 
The "Lord of the Nations" theme was also well suited to the 20th anniversary of the LWML's Heart to Heart — Sisters of All Nations program, which was established in 2003 when 22 Hispanic and African American Lutheran women were invited to a seminar before that year's LWML convention in Oklahoma City.
During each LWML convention since, the program has trained women to reach out to people in their communities with different ethnic or cultural backgrounds. Twenty-seven of these district facilitators were trained this year, including Christina Henry, the great-granddaughter of one of the first native Lutheran pastors in India, who was baptized by German Lutheran missionaries in 1900. Henry, a native of India herself, now lives in Montana, where she and her husband are members of Trinity Lutheran Church in Kalispell. 
"I've loved the training. Look at the variety," said Henry, gesturing around the room at the other trainees. "We all are sisters in Christ, and we are proving it."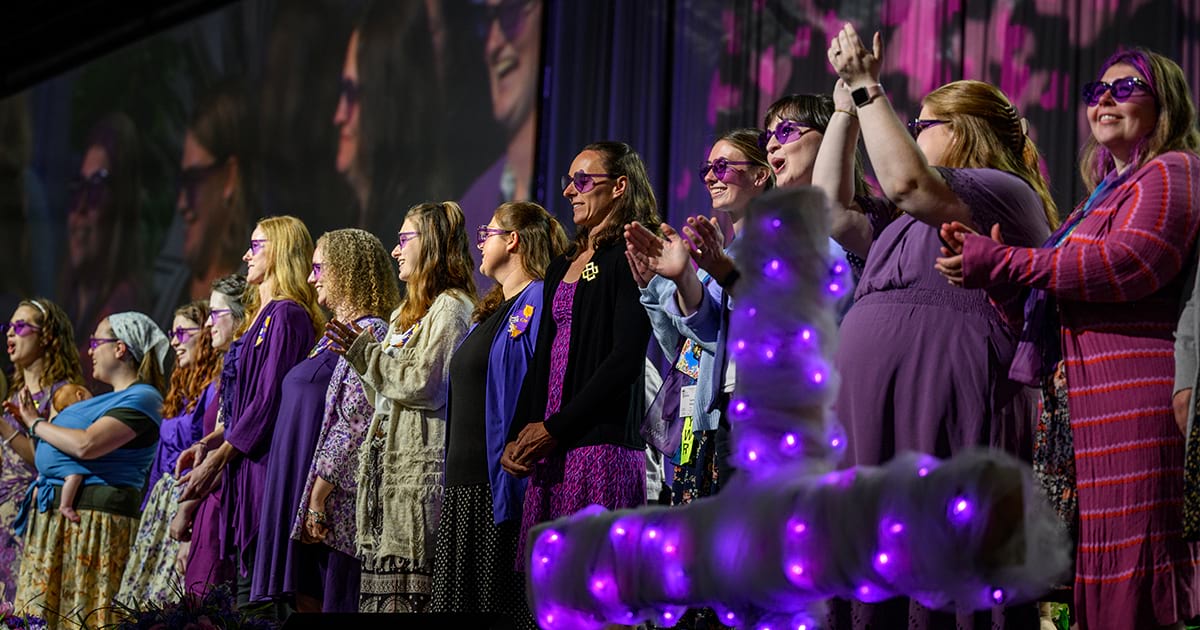 50 years of Young Woman Reps 
Also celebrating a milestone anniversary this year was the LWML's Young Woman Representatives (YWR) program, which was started 50 years ago when eight young women were specially invited to attend the convention.
This year, 75 Young Woman Representatives attended, and YWR pins could be seen adorning women of all ages who had been introduced to the LWML through the program. 
"I've heard stories from my grandma about [LWML conventions], and I've never experienced it, so now to see what she experienced — it's just exciting to see it span the generations," said Kimberlyn Thomas, this year's YWR from the Indiana District.  
"I never feel more loved than when I'm surrounded by LWML women," said Amanda Ballentine, a YWR from Iowa District West. "Someday we're going to be the ladies that will be up there [on stage]. … We'll have been here for years, and [we will] … see everybody we've met and … all the things that LWML has done." 
Engaged in mission  
LWML attendees continued to support mission work even amid the convention, with three servant events on the convention's first day. Volunteers packed over 50,000 meals and 566 backpack school kits for Orphan Grain Train, assembled 1,167 Braille books and calendars for Lutheran Braille Workers, wrote hundreds of cards to LCMS missionaries and military personnel, made fleece blankets and cards for Phil's Friends to distribute to cancer patients, and more. 
As of the close of the convention, the Tee Up 4 Mites golf outing held on the convention's first day had raised over $35,000 toward the LWML mission goal, and the Mission Walk held on the convention's last full day had raised over $100,000. 
In addition, offerings were collected each day. By the close of the convention, the first, which will go toward the 2023–2025 mission goal, had raised $54,922, and three others supporting Lutheran mission organizations had raised $52,269.  
In the name of Christ 
Attendees also took part in worship, prayer and song. Through the assistance of dozens of pastors from the host districts (North Wisconsin, South Wisconsin and Northern Illinois), the women received Holy Communion during the opening Divine Service. 
"God had a plan to send His Son … into the world … so that we might have life. … And so we joyfully proclaim with our lives, with our service, with our lips, that we are God's people," preached the Rev. Dr. Dwayne Lueck, president of the LCMS North Wisconsin District, in his sermon during the service.  
Attendees left Milwaukee with renewed energy to spread the Gospel to their communities. 
"[After conventions] there is increased participation in Bible study … in mission giving … in servant activities [and] in [these women] working in their own communities and churches, because of the inspiration that they found [here]," said Debbie Larson, outgoing LWML president. "That's to me the list of why we have our conventions. It is costly. It is time-consuming. And it is worth it."
See more photos from the convention. 
Posted on July 26, 2023