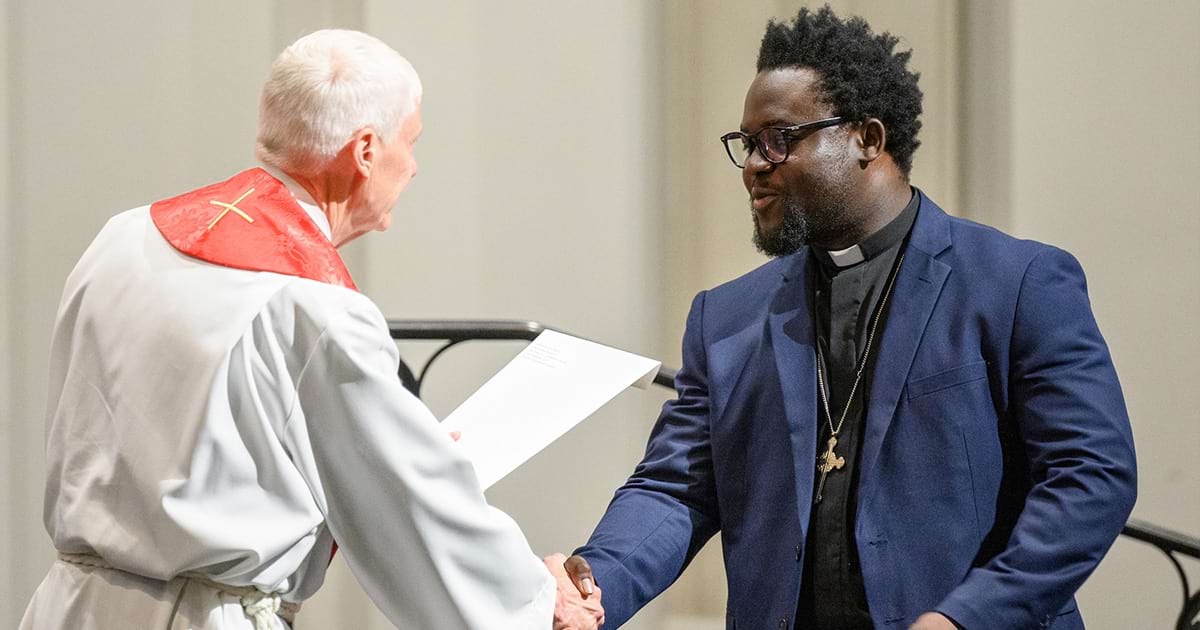 By Sarah Reinsel
Over the course of five joyful services, a total of 176 students at Concordia Seminary, St. Louis (CSL), and Concordia Theological Seminary, Fort Wayne  (CTSFW), received their first calls to pastoral and diaconal ministry and their assignments as vicars and deaconess interns.
73 men received pastoral calls (42 at CSL and 31 at CTSFW);
10 women received diaconal calls (five at CSL and five at CTSFW);
79 men received vicarage placements (42 at CSL and 37 at CTSFW); and
14 women received deaconess placements (six at CSL and eight at CTSFW).
The services were held on the two seminary campuses, on April 24–25 and May 18 in Fort Wayne, and on April 26 in St. Louis. 
'Swept up in joy'
On April 24 and 25 in Kramer Chapel, CTSFW held its Vicarage and Deaconess Internship Assignment Service and its Candidate Call Service, respectively. CTSFW's Deaconess Placement Service was held May 18. 
The Rev. Dr. Allan R. Buss, president of the LCMS Northern Illinois District, preached for the Call Service. Speaking to the nerves and excitement of the day, Buss reminded the candidates of their true focus:
"It's not about the [Council of Presidents]. It's not about the faculty. It's not about the congregations that are either represented here or are watching the livestream who are really excited about getting a pastor. And it's not even about you, is it? It's about Jesus. It's about the risen Savior who is at work in you and through you and has called you."
Especially for the fourth-year seminarians receiving calls, the Call Day Service is an incredibly joyful service. 
"You're sitting for the first half of the service, just kind of wanting to know," said Jonah Laws, who received a call to Faith Lutheran Church in Rogue River, Ore. "And then … once they started announcing where my classmates were going, I … got swept up in joy for them."
"I felt overjoyed, a little scared, [and] very much relieved as well to know that the Lord has put me in this position. He has prepared me to do this, and I know that He will be with me as I go to serve His people in Topeka," said Nicholas Belcher, who received a call to St. John's Evangelical Lutheran Church in Topeka, Kan. 
"I am most excited about … working with God's people, walking with them through the ups and downs of life and bringing the Gospel to them, especially in times of grief when they really need it the most," Belcher continued. "It is so … humbling to be put in a position where we … bring His gifts to people." 
Alexander Hinojosa, a second-year seminarian who will go on vicarage to Zion Evangelical Lutheran Church in Columbus, Ohio, has an active year ahead.
"I'll be helping out with sick and homebound calls, preaching and teaching Bible class. Since Ohio State is … not too far from the church, they have a campus ministry. I'm looking forward to … the challenge to talk to people who may not be Christian or [may] not know about Jesus," Hinojosa said.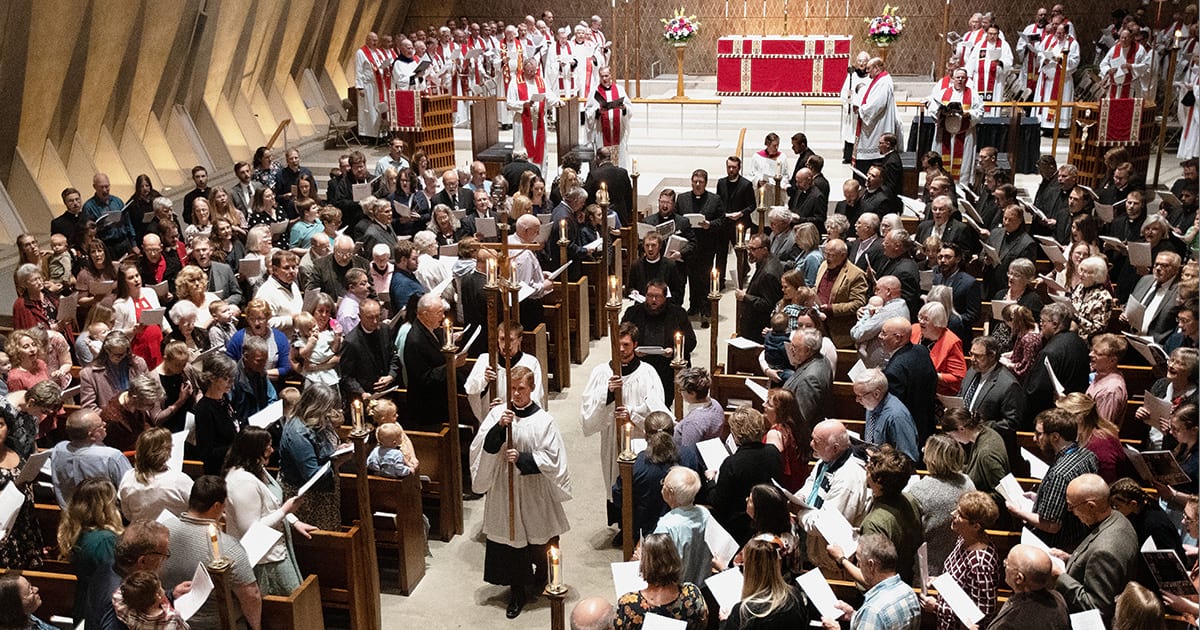 'Feed the flock entrusted to you'
On April 26, CSL held its Assignment of Vicarage and Internships at 3 p.m., followed by the Assignment of Calls later that evening at 7 p.m. in the Chapel of St. Timothy and St. Titus. 
The Rev. Peter Lange, LCMS first vice-president, preached for the Call Service.
"Your call is to feed the flock entrusted to you, literally, with that very body of Jesus that was nailed to the cross and the very blood of the Lamb of God that was shed there to make atonement for all and to reconcile us to the Father," said Lange. "Preaching and teaching. Baptizing and presiding. Binding and loosing. Visiting wherever and whenever the gifts of God need to be taken to those in need of it. This is the ministry to which Jesus is calling you tonight through His church."
"I'm very ready to begin the job that I've spent a lot of time practicing for. There's been a sense for the past three or four months of standing on the starting line, waiting for the gun to go off. Now we get to … start running," said Aidan Moon, who was called to Family of Christ Lutheran Church in Colorado Springs, Colo. "It is exciting to have places and people in mind as we start thinking about what the future looks like. … Now we get to … think about what … serving the people at Family of Christ actually looks like."
For second-year students receiving their vicarage or deaconess internship assignment, a year spent in the field is an exciting opportunity to practice applying what they have learned.
Alyssa Choates, a second-year deaconess student who will complete her internship at St. Luke's Lutheran Church in Oviedo, Fla., is looking forward to helping run family life ministry in the parish, assisting at Lutherhaven Senior Facility and working with women at Redeeming Life Maternity Home. Her husband, Rob, will also go on vicarage at St. Luke's. 
"You grow very close with your class. … I've been with a lot of them since summer Greek, so we've been friends for two years," said Choates. "To get to see [my classmates] walk up there and get their assignments, and [to think] about what God is going to teach them and how He's going to work through them, was really joyful, and a little humbling too."
For a complete list of calls and assignments, or to watch videos of the services, visit ctsfw.edu/callday and csl.edu/call-day.
Posted June 13, 2023