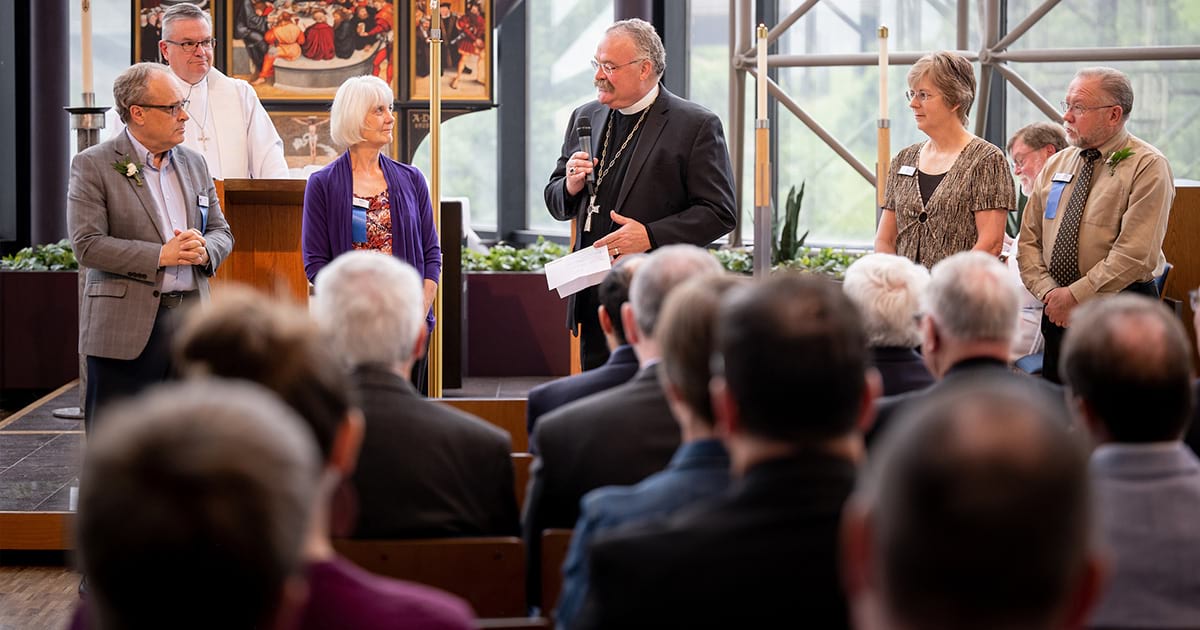 On May 5, The Lutheran Church—Missouri Synod (LCMS) Office of International Mission (OIM) hosted a Day of Thanksgiving to give thanks to God for new missionaries who are being sent into the field as well as those who are returning from the field, having ended their service.
The day began with Matins at the LCMS International Center in St. Louis.
The Rev. James Krikava, OIM associate executive director, preached for the service on 2 Corinthians 1:3–4: "Blessed be the God and Father of our Lord Jesus Christ, the Father of mercies and God of all comfort, who comforts us in all our affliction, so that we may be able to comfort those who are in any affliction, with the comfort with which we ourselves are comforted by God."
Krikava said, "These are familiar words. … We think we know what mercy is. …
"But divine mercy … is foreign to our way of thinking about mercy. God found a way to be merciful to fallen man without forsaking justice — by sending His Son into the world [to live] the perfect life … that we fail to live. And by His death on the cross, He paid for your sins and mine. … This is why we preach Christ and Him crucified." 
Turning to the missionaries, Krikava spoke of the affliction and comfort associated with missionary service. He again expressed the church's thanks for its missionaries and assured both the returning and departing missionaries that the church will continually keep them in prayer.
At the end of the service, the following new missionaries were recognized:
Rev. Samuel and Erica Bobby and children, and Cody and Aurelie Mock and children, who will serve in Latvia;
Sam Borgwardt, who will serve in Taiwan; and
Rev. Jason and Anna Marie Steffenson and children, who will serve in Tanzania. 
Also recognized were missionaries who are ending their service:
Dr. Martin and Marie Dicke, who served 2016–2022 in Papua New Guinea; and 
Dennis and Kathy Fangmann, who served the OIM in various capacities from 2005 to 2023.
In addition to the Day of Thanksgiving, the week included orientation for the new missionaries, meetings of the regional directors and business managers from the Synod's four international regions, and a meeting of the LCMS Board for International Mission.
Posted June 13, 2023