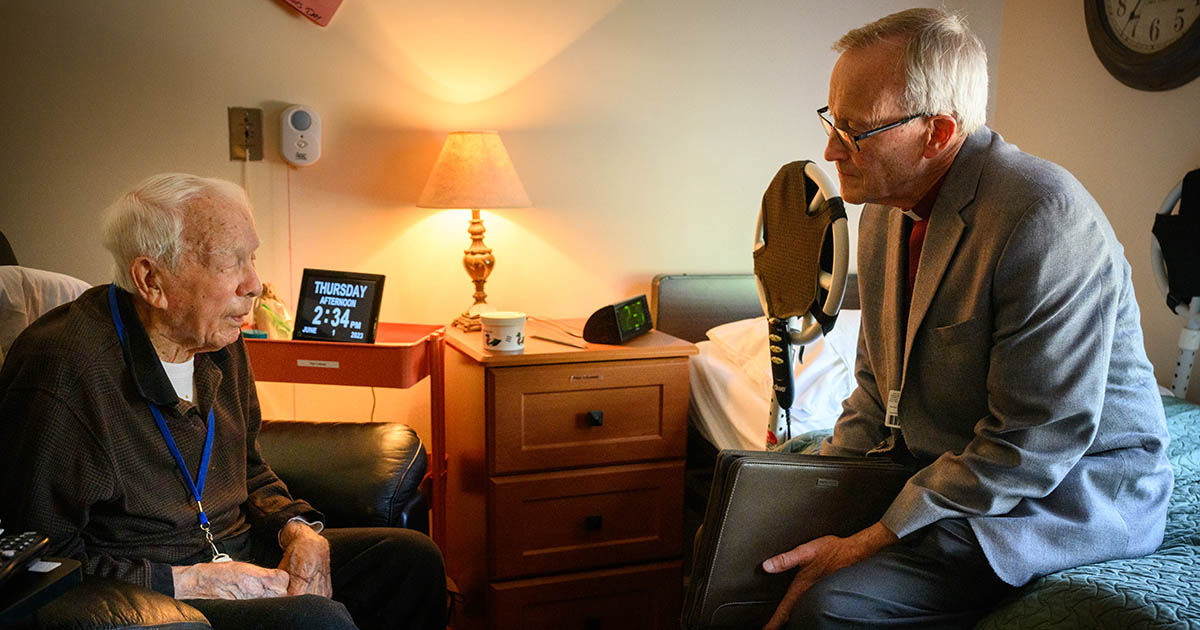 By Erik M. Lunsford
"We know we can count on You each and every day," prayed the Rev. Roger Nuerge, pastor at Concordia of Cranberry, a care community in Mars, Pa., as he visited with 105-year-old Paul Coleman on June 1. Concordia of Cranberry is part of Concordia Lutheran Ministries (CLM), an LCMS Recognized Service Organization (RSO) based in Cabot, Pa. 
"We're going to count on You tomorrow too," continued Nuerge. "You promise never to leave us or forsake us. You promise that there is forgiveness in Your shed blood for all of us, and You promise a life that's everlasting through the power of the resurrection of Your Son, Jesus. So hear our prayer for Paul today and every day as we commend him — body, soul and spirit — into Your hands." 
Nuerge is part of a team of pastors and deaconesses at CLM that provide daily chaplaincy care to the residents through visitations, Bible study and worship. With 28 member congregations, CLM is one of the largest nonprofit senior care providers in the country, serving around 50,000 people per year, and part of the larger church that cares for God's people across the Synod as an extension of its workers and congregations.
Nuerge's work often includes caring for those who may not have people in their lives to check on them or who have been overlooked or seemingly forgotten. On this day, he reminded Coleman, a beloved child of God, that he is not forgotten by Christ.
"What does spiritual care look like? It just means [showing] interest in people and who they are — just the way they are … as helpless as they are … as sinful as they are. They're still important to God, and they are important to us too. That's what spiritual care looks like."
Read more about Concordia Lutheran Ministries, chaplaincy care in the congregation, and LCMS Specialized Spiritual Care Ministry in the Fall 2023 edition of Lutherans Engage the World magazine, coming later this year.
Posted July 13, 2023