In their quest to make western Europe Ablaze! with the Gospel, missionaries from Lutheran church bodies in Germany and Slovakia are planning to attend the Missouri Synod's Mission Planters Institute this month in Orlando,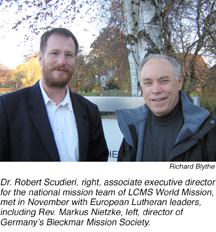 Fla.
The institute, sponsored by the Center for U.S. Missions, Irvine, Calif., with assistance from LCMS World Mission and LCMS districts, is designed to share ideas and encouragement for church planting. Participants include outreach-minded pastors and laypeople from LCMS congregations nationwide.
Germany's Independent Evangelical Lutheran Church and the Evangelical Church of the Augsburg Confession in Slovakia each plan to send a missionary and a mission "coach" to the Orlando institute "to get ideas to implement for the training of missionaries in Europe," according to Dr. Robert Scudieri, associate executive director for the national mission team of LCMS World Mission.
Scudieri was in Germany and Slovakia in November, where he led church-planting workshops for more than 40 Lutheran missionaries, church leaders and seminary faculty from Germany, Slovakia, France and Denmark. Prior to his visit, he had invited the church bodies in Germany and Slovakia to send representatives to the U.S.-based institute.
Scudieri said he "learned a great deal about how a church in an unchurched culture can minister." German Lutherans, he said, "are doing some very exciting things in church planting, and this gave them a framework for considering something like a 'center for European missions.'"
Such a center could be modeled after the Center for U.S. Missions, and LCMS World Mission could "provide resources to make it a reality," Scudieri said. He stressed that the center and its curriculum would come from the European Lutherans, but that "we can come alongside them and help implement it."
Scudieri plans to lead a similar church-planting forum in Latvia later this year.
Posted Feb. 2, 2004