The online "Mission and Ministry Giving Catalog" at http://catalog.lcms.org launched in 2002 has been redesigned by the LCMS Foundation to make it e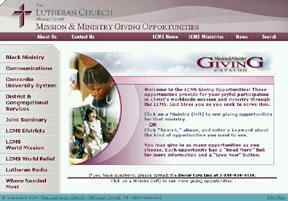 asier to use.

Through the Giving Catalog, visitors to the Synod's Web site can make secure financial contributions to various Lutheran Church–Missouri Synod ministries, both domestic and international. Featured ministries include participating LCMS districts.

New features added to the updated Web site include:
a left-hand navigation panel listing LCMS ministries such as "Black Ministry," "Concordia University System," "LCMS World Mission," and "LCMS World Relief." Clicking on a selection provides a listing of each "giving opportunity" in that ministry category.
links to each ministry's Web page for a more detailed description of giving opportunities.
a more comprehensive search tool.
a "one-click" giving form that allows users to contribute to numerous ministries on a single form.
"The new catalog works in a far more user-friendly and reliable manner," said Rev. Earl Feddersen, who helped redesign the site. "Giving opportunities may be found easily by clicking on the name of a ministry or by searching for a key word of your own choosing." To save time, the search engine looks only at the data inside the catalog and will not bring up unrelated sites or information.

The changes have made transactions much quicker and simpler than they were on the old site, Feddersen said.

Visitors to the Synod's Web site at www.lcms.org may reach the Giving Catalog by clicking on "Get Involved" and then on "Giving Opportunities."
Posted Dec. 27, 2004