Reporter and The Lutheran Witness, the Synod's magazine, each won a first-place award and Reporter an "Honorable Mention" in this year's Associated Church Press (ACP) competition for work done in 2003.

The awards were prese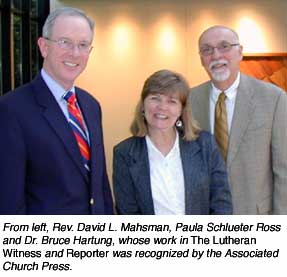 nted April 20 in Toronto. ACP is an association of some 200 church-related publications and news services.

Reporter's first-place "Award of Excellence" was in the "Letters to the Editor" category, for the "Letters" section — edited by Rev. David L. Mahsman, executive editor of both periodicals.

Reporter also received a third-place Honorable Mention in the category of "Department," for Dr. Bruce Hartung's "Pressure Points" column.
In the "Biographical Profile" category, The Lutheran Witness picked up a first-place Award of Excellence for "Ministry to Migrants," a feature story in last year's June/July issue by Paula Schlueter Ross. Ross is contributing editor for the magazine and a staff writer for Reporter. Her story was about Connie Sikkema of Tampa, Fla., and her compassionate work among Florida's Mexican migrant workers.
Posted April 30, 2004