By Joe Isenhower Jr.

As Floridians continue to work at putting their lives back together in the wake of Hurricane Charley, LCMS district officials there say that money and volunteers are needed to help those in southern and central Florida most affected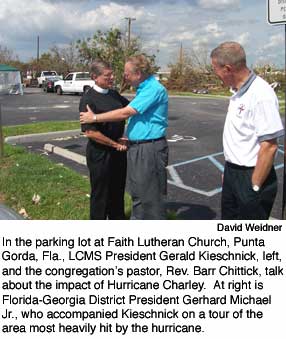 by the Aug. 13 storm.

"For the immediate future, money is the greatest form of help we can provide," said David Weidner, director of congregational services for the Florida-Georgia District. He also indicated that groups of volunteers would be needed to help clean up from the storm and assist with rebuilding.

By Aug. 25, Charley had claimed 26 lives and injured countless others, with estimates of losses and damage to insured property alone of at least $7 billion. Of the state's 67 counties, 25 were designated federal disaster areas.

Weidner said that although there were no reports that Hurricane Charley killed or severely injured LCMS Lutherans, members had lost homes and damage to LCMS congregations' property ranged from "relatively minor to extensive."

He said the roofs would "definitely or probably" have to be replaced at Faith Lutheran Church, Punta Gorda — where Charley made landfall with 145-mph winds; the Lutheran Church of the Cross in nearby Port Charlotte, where there also was damage to the parsonage; Peace Valley Lutheran Church, Wauchula, also with water damage in the sanctuary; and Grace, Arcadia.

Weidner said there was "major damage" to the fellowship hall at the Punta Gorda church, with the congregation "looking at the probable reality of having it torn down."

Damage from water and trees felled by Charley also was reported at Lutheran Haven, a retirement community in Oviedo operated by the SELC District.

Florida-Georgia District President Gerhard Michael Jr. said that about 35 of the 185 district congregations were in Charley's path.

Jim Wells, president and chief executive officer of Tampa-based Lutheran Services Florida, described that path as "a 20-mile by 225-mile area with the aftereffects of 20 tornadoes over a six-to-seven-hour period."

Michael indicated that the district, LCMS World Relief and Human Care, Lutheran Disaster Response and LSF have formed a "strategic partnership" to help with Hurricane Charley recovery efforts.

Property damage and the death toll were most severe in the southwest part of the state, but damage was widespread as the storm headed northeast across the state through Orlando and on into the Atlantic Ocean at Daytona Beach.

Although Charley later turned into the Carolinas, its force was diminished by that time, causing "relatively minor wind and water damage" as it headed up the Atlantic seaboard, according to Sally Hiller, mission and ministry executive with the LCMS Southeastern District.

Weidner said that LSF is the "contracted service provider" for Hurricane Charley Relief in Florida, on behalf of Lutheran Disaster Response, a joint venture of the Missouri Synod and the Evangelical Lutheran Church in America.

Wells told Reporter the agency is focusing on "getting the needs met of our congregations, pastors and other church professionals caught in the aftermath of Hurricane Charley and addressing the needs of the communities they serve."

Wells said that LSF has filled two of three coordinator positions — in Orlando and Winter Haven — to direct "long-term Charley-relief efforts," and that the agency has retained Lutheran Counseling Services of Orlando to "first provide pastoral care for pastors and other professional church workers and then to provide care in general to other care givers."

He said that counseling is projected to continue over the next 28 months.

"This is a long-term effort, with many people affected at all levels of the affected communities," Wells told Reporter.

He said that groups of volunteers are needed for clearing debris and cleaning property, with 50 such groups already "at least expressing an interest."

"There is special concern for addressing the needs of migrant workers," he said. Because most are undocumented, they are afraid to apply for government assistance, and most of them live in trailers and shacks "most vulnerable" to the winds of a hurricane, Wells said.

Two LCMS ministries — Messiah Lutheran Church, Tampa, and Amigos en Cristo, a Hispanic outreach ministry based in Fort Myers — have received LSF assistance after the storm for their work with migrants.

Connie Sikkema, founder and director of Messiah's Migrant Ministry, handed out much-needed health and hygiene supplies among migrant families in Wauchula — a farming community about 90 miles north of Punta Gorda — over the Aug. 20-22 weekend. She had plans to return in weekends to follow, accompanied by a nurse.

Among LSF-purchased supplies Sikkema is distributing in Wauchula are diapers, laundry soap, shampoo, toothbrushes and toothpaste, and first-aid kits. She also is distributing insect repellent, diapers, and "great-big plastic bins" for rainwater.
"We found three little kids with ringworm," said Sikkema, who planned to return with supplies to rehydrate infants who were sick from ingesting tainted water used to mix their formula.

She said that migrant-worker families there are still living in storm-ravaged trailers. Of 29 trailers in two parks, she said at least five trailers are beyond repair and another seven or eight "doubtful."

"These people have such little hope," Sikkema told Reporter. "The only hope we can offer them is that Jesus is there, and so are we."

Rev. Bob Selle directs Amigos en Cristo, which distributed $25 Wal-Mart gift certificates worth a total of $5,000. LFS funded that project, including funding for extra office space for those gathering intake information, through which those applying for the certificates explained their need.

"We're doing what we can," Selle told Reporter.

Amigos Center also was organizing an immigration clinic with the United States Citizenship and Immigration Service for Aug. 29 at St. Michael's Lutheran Church, Fort Myers.

Selle said the purpose of the clinic would be to help those in the immigrant community who "were already documented but lost their documentation in Hurricane Charley or who had appointments at immigration offices in Tampa or Miami that were made impossible because of Charley."

Synod President Gerald Kieschnick toured the places most affected by Hurricane