By Paula Schlueter Ross

A record number of women — especially young women — attended the "Leadership for Tomorrow" training conference sponsored by the Lutheran Women's Missionary League Nov. 12-14 in Chesterfield, Mo.

As it has in the past, the LWML invited presidents of its 40 districts nationwide to attend the conference, held every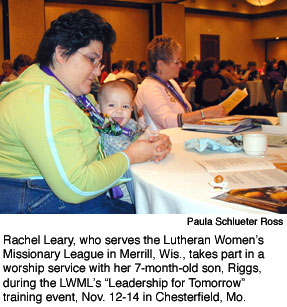 four years.
But this year, for the first time, the organization asked each of its district presidents to bring along two women who have never before attended a national training event.

The idea, according to LWML President Linda Reiser, was "to raise up new leaders" — particularly younger women under age 40 — for the LWML, and for service in local congregations and communities.

The conference objective, she said, was "to help them feel equipped, help them feel like they have been chosen, with their gifts, to be in leadership."

Some 120 local LWML leaders — and another 65 or so from the LWML's executive and other national committees, who served as trainers and coordinators — attended the conference.

Attendees included "professional women, stay-at-home moms, and women who have been in careers and are now retired," Reiser told Reporter on the last day of the conference. "We have probably six generations of women here — from 20s to 70s."

And that's a plus, she said, "because I think they see that the heart and focus [of the LWML] stays there for years — that it doesn't change."

More women were invited to this year's conference, Reiser said, "not to maintain and preserve the [LWML] organization," but, rather, "to provide for them the opportunity to serve God in whatever role He has given them."

That sentiment is echoed by Carolyn Blum, president of the LWML's
South Wisconsin District, who recalled that she wasn't keen on joining a women's group that she guessed was made up of "quilters and bakers" when she got involved 15 years ago.

Blum, who admits she can't quilt or bake but admires those who can, has "administrative skills, and I never thought that I would ever become involved in that group."

Today, she realizes "there is something for everyone there, no matter what your age or ethnic background, or the gifts and talents the Lord has given you. He's provided this organization for the women in our Synod to be able to use those gifts in service to Him."

Khristine Miller, a 40-year-old from Kewaskum, Wis., is the youngest member of her congregation's LWML group. Miller, who was attending her first national event, described it as "wonderful."

"All of us, I think, are concerned about how to get more younger women involved in LWML, and I think almost every session focused on that and gave us tips and helps on that," Miller said.

The conference provided lots of good ideas, she said, including at least one she plans to try: starting an e-mail or Web-based LWML society for younger women who may not have time for traditional meetings.

Katy Gifford, 32, is a preschool teacher at Golgotha Lutheran Church in Wausa, Neb., and the mother of five children ages 8, 6, 5, 2 and 1. She also serves as vice president for human care in the LWML's Nebraska North District.
Sure she's busy, she said, but makes time for the LWML. "This is my sanctuary, this is my retreat, this is where I go to be filled," Gifford said.

As a result of the conference and conversations with other women there, Gifford said she feels "so empowered to just go out and do whatever God leads me to do."
Posted Nov. 30, 2004