By Paula Schlueter Ross

Why let something like a lack of funding stand in the way of a perfectly good ministry? So say two Missouri Synod pastors, who are continuing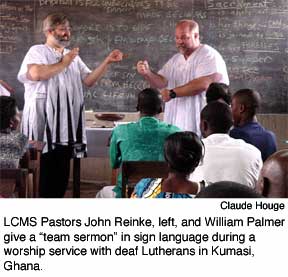 to train deaf pastors and evangelists in Ghana, West Africa, even though the effort no longer receives funding, as it once did, from LCMS World Mission.

Deaf-ministry Pastors John Reinke and William Palmer are raising their own financial support that allows them to fly to Ghana twice a year and provide theological training to six deaf men who are studying to become pastors and to seven deaf evangelists.
The two-week sessions are conducted in sign language, using course material from the Deaf Institute of Theology, based at Concordia Seminary, St. Louis, and theological resources from the Evangelical Lutheran Church in Ghana. In addition to the limited classroom instruction, the students complete weekly assignments and e-mail them to Reinke.

Reinke and Palmer also have provided instruction to lay members of Ghana's Lutheran church who share Bible stories with deaf elementary-school students, and the two have delivered hundreds of children's books and crayons. Ghana has 13 schools for deaf children, with nearly 5,000 total students.

Reinke and Palmer completed their second trip in January, and plan to return to Ghana for two weeks this summer.

Reinke describes the opportunities for sharing the Gospel among deaf children in Ghana as "huge — they are almost beyond imagination." Likewise, teaching the adults is extremely satisfying, he said, although draining.

Both pastors are missionaries-at-large for the Synod's South Wisconsin District and serve three deaf congregations: Emmanuel, Milwaukee; Holy Cross, Delavan; and Our Savior, Madison.

Reinke served LCMS World Mission for eight months in 1997-98 as a missionary to the deaf in Ghana, and was based in Kumasi. An invitation from Ghana's church leaders encouraged him to return last August and lead additional seminars, with Palmer in tow.
During that first trip, in August, he and Palmer were faced with a heart-wrenching decision when they were asked to baptize seven Africans, two of them former Muslims.
"It would be a great honor to do that. But we said no," Reinke said. "The evangelists needed to do it — they needed to be the leaders. They are the ones who care for the sheep — not us who come in to train."
Watching the baptism was "much better," he said. "Seeing their [sign language] and their joy — that was the best."
Reinke says he and Palmer have to raise about $10,000 per trip to pay their expenses, and he admits to having had some doubts about whether or not to continue the expeditions. But, earlier this year, within a four-day period, he received $5,500 in contributions from just three donors — two families and a deaf congregation.
"That just blew me away," he said. Reinke said the trips also would not be possible without the support of LCMS World Mission, which continues to provide assistance with securing visas and coordinating travel, and the South Wisconsin District, which provides encouragement to the pastors and gives them time away from their regular duties to pursue the work in Africa.
For more information about the Ghana work, contact Reinke at revreinke@aol.com.
Posted June 17, 2004