Dr. Dale A. Meyer has been appointed interim president of Concordia Seminary, St. Louis, effective Nov. 4.
That is the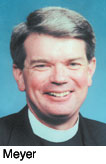 day Dr. John F. Johnson, the seminary's president since 1990, begins as president of Concordia University, River Forest, Ill.
Meyer is professor of practical theology and occupant of the seminary's Gregg H. Benidt Memorial Chair of Homiletics and Literature.
A six-man search committee — three who are members of the seminary board of regents and three its faculty — has been named to begin the process that will result in the board's issuing a call for a new president.
The seminary also has announced the appointments of two interim vice presidents. They are:
Dr. R. Reed Lessing, assistant professor of exegetical theology, to serve as interim vice president for student life, beginning Nov. 13; and

Mark Hofman, senior development director, who has been interim vice president for development since August.
Lessing succeeds Rev. Larry W. Rockemann, who left the vice presidency after accepting a call, and Hofman succeeds Leonard Fiedler, new senior vice president for ministry resource development for the LCMS Foundation.

Dr. David Peter, assistant professor of practical theology, will assume the duties of director of placement at Concordia Seminary until a full-time director is named for that new position, which was formerly associated with the vice president for student life.
Posted Nov. 1, 2004