Dr. Richard W. Bimler, president of Wheat Ridge Ministries since 1991, has announced that he plans to step down from his position on March 1, 2006.
I thank the Lord for the opportunities and vision of Wheat Ridge and will continue to share the p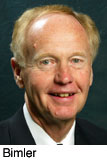 assion of health and hope ministries wherever I go," Bimler said.
Prior to joining Wheat Ridge, Bimler served from 1989 to 1991 as executive director of the LCMS Planning Council for Mission and Ministry, and 12 years with the Synod's former Board for Youth Services — 10 of them as executive director
Bimler said he plans to continue to be involved in ministry opportunities through speaking, writing, consulting, and being available to mentor and help health and hope ministries to flourish and grow. He said he would be open to serving Wheat Ridge in some way at the request of the new president.
The Wheat Ridge Ministries Board of Directors has appointed a search committee to find Bimler's successor.
Randall L. Boushek has been named chief financial officer for Minneapolis-
based Thrivent Financial for Lutherans. In his new post, Boushek, who also serves Thrivent as senior vice president and treasurer, oversees all corporate financial services, including the controller, treasury, corporate actuarial, and investment accounting functions. He also provides leadership for the organization's purchasing, contracting, and real estate management.
Boushek is a member of Lord of Glory Lutheran Church in Elk River, Minn.
Posted Nov. 30, 2004