Dr. Rudolph H. Harm, a professor at Concordia Seminary, St. Louis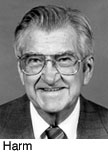 , from 1975 until his retirement in 1989, died Dec. 8 in St. Clair, Mo. He was 81.

A funeral service was held Dec. 13 at St. Paul Lutheran Church in Union, Mo.

Harm served as chairman of the Department of Practical Theology (1976-81), assistant director of placement counseling (1978-83), and associate professor of practical theology (1975-89). Earlier, he was pastor of congregations in Vermont and New Jersey and academic dean at Luther College, Teaneck, N.J.

He is survived by his wife, Elizabeth; a brother, Frederick; and daughters Beth Zimmermann, Linda Koeller, and Robin Reese.

Memorials may be made to the St. Paul Lutheran Church Building Fund, 208 W. Springfield Ave., Union, MO 63084.
Posted Dec. 27, 2004