The current edition of LCMS Youth Ministry's Web magazine, "thESource," has a viewers guide for those seeing Mel Gibson's film "The Passion of the Christ."
The magazine's editorial team compiled the guide from notes of Dr. James Bachman, dean of the School of Theology at Concordia University, Irvine, Calif., and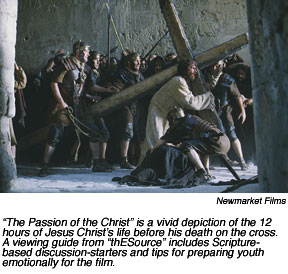 Jacob Youmans, director of Christian education at St. Paul Lutheran Church, Orange, Calif., and from an interview with Rev. Tom Lapacka, executive director of the LCMS Board for Communication Services. All three attended a pre-screening of the film which included an interview with Gibson.
"This is without a doubt a movie that every Christian over the age of 14 must see," said Youmans in reviewing the movie for thESource. "It's a film we need to take our unchurched friends to see."
Materials on the Web magazine include a suggested permission form to use for young teens seeing the movie, which is rated R for its graphic depiction of the brutality inflicted on Jesus.
The viewing guide to "The Passion of the Christ" is available free at www.youthESource.com. Click on "Essentials" in the left-hand navigation menu for the guide.
Rev. Terry Dittmer, director of Youth Ministry with LCMS District and Congregational Services, said the viewing guide "offers both practical and theoretical advice to help you prepare your youth to see this exciting film."
Dittmer said that components of the guide include the following:
Scripture-based discussion starters for use before and after seeing the film;
recommendations on preparing youth emotionally for the film;
a character list and scene descriptions;
discussion of the film's artistic elements; and
advice on including parents.
"The Passion of the Christ" opened in theaters on Ash Wednesday.
Posted Feb. 26, 2004