Dr. Karl L. Barth of Wauwatosa, Wis., received Concordia Historical Institute's (CHI) Distinguished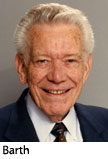 Service Award during CHI's annual awards banquet Nov. 3 at Concordia Seminary, St. Louis.

The Institute, which is the Synod's Department of Archives and History, is located on the seminary campus.

Barth's award is for "service as an influential spokesman for American Lutheran history and for his support of the Institute, especially from 1982 until the present," according to the award citation.

He was particularly cited for his work while he was president of the St. Louis seminary (1982-90), director of the Synod's 150th Anniversary Committee (1994-97), and as narrator for CHI's 2002 video titled "Hidden Treasures: Celebrating 75 Years of Preserving History."

"In all these ways, and many more, Dr. Barth serves as an example to all church leaders of how their support for the historical enterprise in their church is inimitable," the citation reads.

Also given at CHI's 31st awards banquet were commendation awards for 16 works relating to Lutheran history that were completed last year — three in "major publications," eight journal articles, four congregational histories, and one in the "youth" category.

Receiving the awards for work in major publications were Dr. Samuel L. Hoard, Orlando, Fla.; Dr. Won Yong Ji, St. Louis; and Dr. Don Heinrich Tolzmann, Cincinnati, Ohio.
Authors honored for journal articles were Rolf Buschardt Christensen, Gloucester, Ontario, Canada; Alan Feyerherm, Falls Church, Va.; Dr. Craig L. Nessan, Dubuque, Iowa; Dr. Ken Schurb, Moberly, Mo.; Dr. Erling T. Teigen, Mankato, Minn.; Dr. Christian Weber, Nuremburg-Gebersdorf, Germany; Dr. John C. Wohlrabe Jr., Norfolk, Va.; and Dr. David Zersen, Austin, Texas,
The following received awards for congregational histories: Rev. Michael Buchhorn and Jack Wiederhold of Giddings, Texas, and Dr. Joseph Wilson, Winchester, Texas — all three for the same congregational history; the historical committee for Immanuel Lutheran Church, Monroe, Mich.; Dr. Norman Threinen, Edmonton, Alberta, Canada; and the anniversary committee of Trinity Evangelical Lutheran Church, Sheboygan, Wis.

Megan Jean Harper of St. Louis received the award in the "youth" category for her song written for a church anniversary.

A CHI Awards Committee selects the recipients of the commendation awards. That committee and the CHI Board of Governors choose the recipient of the Distinguished Service Award.

From now until April 1, nominations are open for commendation and distinguished-service awards for work completed in 2005. For a nomination form or for more information about the Institute — including help with congregational histories and other resources — click here or call CHI at (314) 505-7900.
Posted Dec. 1, 2005