By Joe Isenhower Jr.

Lee Brandt says the information he gets at events like this year's Lutheran Church Extension Fund (LCEF) Fall Leadership Conference in California is "amazing."

Brandt, 34, was one of some 700 participating at the conference Nov. 18-20 in Indian Wells, Calif., near Palm Springs.

Attending his fourth national leadership conference, Brandt, a member of Mount Olive Lutheran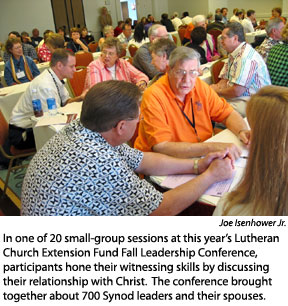 Church, Aurora, Colo., works in the business office of the LCMS Rocky Mountain District.

"It was outstanding," Brandt said of the 2005 conference — "including the speakers, small-group sessions [20 this year], accommodations, the Christian fellowship — you name it."
Brandt added, "It's amazing we have such a top-notch connection to the church through LCEF, where I know investments go to ministry — helping build churches, not banks."
As in years past, Brandt said that this year's conference drove home the point that "Lutherans in our church body are providing loan funds to congregations that need them: home loans to rostered church workers; and low-cost services to other organizations that help strengthen ministry, stewardship, and outreach."

"For instance," Brandt told Reporter, "it always amazes me how many congregations receive the Million Dollar Congregation Award."

During the conference, 11 Synod congregations were recognized for achieving that distinction in the past year — meaning their members for the first time invested a total of at least $1 million in LCEF while at least 10 percent of the members of those congregations are LCEF investors.

Also, Iglesia Evangelica Luterana San Pablo (St. Paul Evangelical Lutheran Church), a Hispanic Synod congregation in Aurora, Ill., received the Fred E. Lietz Mission Project Award, which LCEF gives annually "to recognize outstanding efforts on the part of mission projects associated with the LCMS." The award is named in honor of Fred Lietz, first executive secretary of church extension in the Synod.

"Financial results were excellent," LCEF President Merle Freitag told the conference in his two-part report — giving an update on LCEF over the past year, and later sharing "observations applicable to LCEF and to the LCMS."

Using audited figures for LCEF's 2005-06 fiscal year, which ended June 30, Freitag noted that the fund's total assets "continued to climb slowly" to a level of $1.415 billion. The "bottom line," he said, showed earnings of $9.4 million — "$4.6 million … from the operation we control more directly and $4.8 million from other income, including our investments, gifts and bequests, and other sources we do not control but hope to influence.

"As a result of the Lord's blessings on our operations, we were able again to share our good fortune with our partners in ministry, Synod, and the [LCEF] member districts, through the earnings distribution," Freitag said.

For the year, he said that distribution came to $1.36 million — "$136,000 to Synod and the remainder to our 28 member districts," with each district receiving an average of $44,600.

Freitag noted that for the previous year, half of LCEF's distributed earnings of $2.4 million "was used for new mission planting or tasks related to that planting."

He said that although loan demand was lower than for "recent record years, many new missions were planted, many older churches were modernized or relocated, and many other organizational needs were met."

Freitag said that LCEF's portfolio of 3,000 loans "clearly shows that we are indeed about our primary business — helping congregations," which constitute 78 percent of the current loan portfolio.

"I also want you to know we have been able to keep the loan rate low [at an average of 5.5 percent]," he said, "primarily as a result of the low interest rate in the marketplace."

Freitag prefaced his report with remarks about ways that LCEF has supported the Synod's hurricane-relief efforts in recent months. They include:
Laborers For Christ, an LCEF ministry, placing a project manager in a New Orleans congregation to coordinate cleanup.
providing a $50,000 line of credit to the Lutheran high school in New Orleans, after it was badly damaged and shut down as a result of Hurricane Katrina. Loan payments will be covered by 10 other Lutheran high schools and cash donations from other schools.
adapting an LCEF product so that church workers affected by hurricanes can get a $40,000 interest-free loan for 12 months with no payment in that period.
Freitag also spoke of priorities LCEF has for helping LCMS District and Congregational Services — School Ministry boost enrollments in Synod schools and helping DCS — Stewardship Ministry emphasize the importance of "personal financial responsibility," especially with rising church-worker indebtedness.
Freitag told of "exciting things happening in Ablaze!," the Synod's movement to share the Good News of Christ with 100 million people unreached by the Gospel and uncommitted to Christianity by 2017.

Specifically, he mentioned LCEF providing support for planting 2,000 new ministries in this country by creating a Mission Site Fund that sets aside $11 million at a 1 percent interest rate for up to five years.

Freitag spoke about LCEF's Church Development Partners initiative, a new Synod recognized service organization that has started 20 projects in the last year where land will be used for new mission sites.

He also said that LCEF has recommended to its investors the use of the LCEF Special Interest Fund "to provide ongoing support to the Ablaze! movement."

"Is your congregation involved?" Freitag asked in reference to Ablaze!

"If you are waiting to be invited — consider yourself invited," he added. "Jesus did it when He said, 'Go ye therefore into all nations, teaching them all I have commanded you.'"

Synod President Gerald B. Kieschnick, who addressed the conference before Freitag, also spoke of the need for spreading the Gospel through Ablaze! with references to a theme he has used over the past year — "One Message, One Mission, One People."

"Witnessing our faith is not as complicated as some would make it," Kieschnick said. "It is the response to our Baptism and a simple sharing of the knowledge we have a