The New York-based American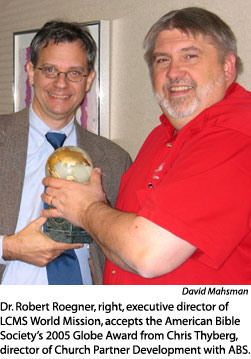 Bible Society (ABS) presented its Globe Award Dec. 8 to LCMS World Mission for "significant support of the Bible cause."
"LCMS World Mission, as our partner, has enabled the Bible Society to pursue the mission of reaching all people everywhere so that everyone will have the opportunity to experience the life-changing message of the Bible," said ABS President Paul G. Irwin.
The annual award includes a gold-leaf onyx globe on a granite base with inscriptions from 1 Peter 2:9 and Habakkuk 2:14 along with the ABS logo.
"The LCMS knows how important the Word of God is to those who read and hear it," said Chris Thyberg, director of Church Partner Development with the ABS. "We thank you for the honor of working so closely with you in this vital plan to 'fill the earth with the knowledge of the glory of the Lord.'"
Founded in 1816, the ABS strives "to make the Bible available to every person in a language and format each can understand and afford so that all people may experience its life-changing message."
For more information about ABS ministries, visit its Web site.
Posted Dec. 29, 2005