Rev. Dean Wachholz of Saline, Mich., and Jay De Beir, Aurora, Ill., joined the Lutheran Church Extension Fund (LCEF) staff this fall.
Wachholz, 60, is vice president of the Agency Services Division of Capital Funding Services (CFS), the capital fund-raising arm of the Synod that helps congre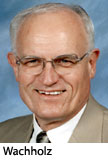 gations and agencies raise funds for building projects and to retire their debt.
"In this position, Dean works with groups such as LCMS districts, high schools, grade-school associations, and camps … in feasibility studies, capital campaigns, and development services," said CFS Vice President Dave Kuerschner. In his position, Wachholz succeeds Kuerschner, who was named CFS vice president earlier this year.
A 1972 graduate of Concordia Theological Seminary, Springfield, Ill., Wachholz was development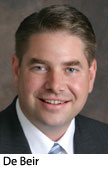 executive for the LCMS Michigan District from 2002 until joining the LCEF staff.
De Beir, 37, is senior vice president of LCEF's Ministry Services Department — a new position. From 2000 until earlier this year, he was executive vice president of Signet Health Corporation of Denton, Texas.
LCEF President Merle Freitag said that in his position, De Beir "will spearhead the reorganization of LCEF's service areas," which include Strategic Ministry Planning, Demographic Services, Capital Funding Services, Laborers For Christ, and the Architectural Advisory Committee.
De Beir last year earned a master's in business administration degree from Benedictine University, Lisle, Ill. He is a 1990 graduate of Aurora University, Aurora, Ill.
Posted Dec. 1, 2005