Dr. Arthur T. Kuehnert, a former three-term president of the LCMS Central Illinois District (CID) and assistant to LCMS President Emeritus Ralph A. Bohlma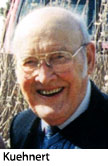 nn, died of complications from prostate cancer April 7 at his Albuquerque, N.M, home.
A memorial service for Kuehnert, 90, was held April 12 at Faith in Christ Lutheran Church, Albuquerque. Committal followed at Gate of Heaven Cemetery, Albuquerque.
Kuehnert was the CID president from 1974 to 1985, and served as Bohlmann's assistant from 1985 to 1991.

Among survivors are his wife, Marion, of Albuquerque; a daughter — Joan (Mrs. Alan) Waxman, also of Albuquerque; and two grandchildren. A son, David Kuehnert, died April 18, just 11 days after his father.

Before his election to the Central Illinois presidency in 1974, Kuehnert had been pastor of St. Paul Lutheran Church, Pana, Ill., for 30 years. During that time, he also was a circuit counselor and served on the district's board of directors.

A 1939 graduate of Concordia Seminary, St. Louis, he received an honorary doctorate from Concordia Theological Seminary, Fort Wayne, in 1981.

The Kuehnerts moved to Gallup, N.M., in 1993, to be closer to their daughter and her family. While there, Kuehnert filled pulpit vacancies for a number of Synod congregations in the "Four Corners" area that also borders Colorado, Arizona, and Utah.
Marion Kuehnert recalled that, during that time, her husband indulged his passion for gardening and attended many of his grandchildren's school and community functions.
After their move to Albuquerque in 2000, he continued to serve as a vacancy pastor, remaining active until 2004.
"Preaching was his hobby," said Marion Kuehnert. "Arthur worked almost as hard in his retirement as he did in his early years. He loved being in church and out serving people."
In other areas of service, Kuehnert was chairman of the March of Dimes chapter in Christian County, Ill., for 25 years, and was a member of the board of the Illinois Public Aid Commission for 10 years.
The family suggests that memorials be made to Faith in Christ Lutheran Church, 1750 Faith Court N.E., Albuquerque, NM 87109, or to Concordia Historical Institute, 804 Seminary Place, St. Louis, MO 63105-3014.
Posted May 23, 2006