David L. Strand in April accepted the LCMS Board for Communication Services' (BCS) appointment as its full-time executive director.
Vicki Biggs and Joe Isenhower Jr. also accepted the board's appointments as
manager of Public Affairs/Media Relations and managing editor-Reporter, respectively — two new positions.
Strand,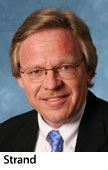 50, has oversight of the department charged with informing, reporting, and interpreting the Synod's purpose, program, and positions to members and the public.
He has been on the Synod staff since 1980. Most recently, Strand was interim executive director and interim director of News and Information for the BCS. He previously was director of Public Affairs and managing editor of The Lutheran Witness, after serving as its features editor. He joined the communications staff in 1986, after holding several positions with the former LCMS Department of Stewardship.
Strand earned a master's degree in Corporate Communications from Lindenwood University and a B.A. in English from the University of Missouri-St. Louis.
Before joining the Synod communications staff earlier this spring, Biggs,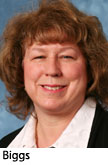 45, had 19 years of experience in marketing, communications, public relations, special events, and administrative management for various businesses and organizations in the St. Louis area, including Big Brothers Big Sisters and Baird, Kurtz & Dobson, CPAs.
She earned a B.S degree in Business Administration with a dual emphasis in Marketing and Management from the University of Missouri-St. Louis.
In her new position, Biggs has responsibility for managing public relations for the Synod.
Isenhower,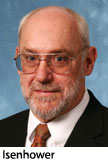 59, has been manager, news bureau for the BCS since 1997, which included writing for Reporter. He also held that position for a number of years after first joining the Synod communications staff in 1973. Previously, he worked in corporate communications. From 1991 to 1997, Isenhower was director of communications for Concordia Seminary, St. Louis.
He earned a bachelor's degree in English from Lenoir-Rhyne College, Hickory, N.C. In his new position, Isenhower oversees all aspects of production for Reporter.
Strand, Biggs, and Isenhower are active members of LCMS congregations in the St. Louis area.
Posted April 27, 2006