Each year, Austin, Texas-based Lutheran Social Services of the South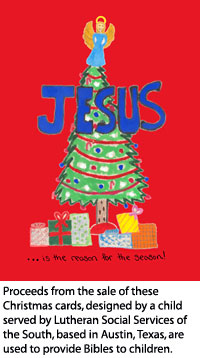 (LSSS) sponsors a Christmas-card design contest among the children it serves.
This year's winning card, designed by a resident at an LSSS children's residential treatment center, features a colorful Christmas tree with the sentiment, "Jesus … is the reason for the season!"
The inside of the card features a Scripture quote, "Today in the town of David a Savior is born to you; He is Christ the Lord. This will be a sign to you: You will find a baby wrapped in cloths and lying in a manger" (Luke 2:11-12), and the words, "May your celebration of the joy and promise born to us in Bethlehem be filled with His glory and love!"
The cards are available for $15 for a pack of 15 (includes shipping). Proceeds from the sale of the cards are used to purchase Bibles for all children cared for by LSSS.
Lutheran Social Services of the South Christmas cards from previous years also are available. To see them, or to place an order, visit the LSSS Web site at www.lsss.org/christmas/christmascard06_orderpage1.htm.
For more information, call LSSS at (800) 938-5777.
Posted Oct. 17, 2006