What's a "synod"? Are Lutheran Church–Missouri Synod congregations only in the state of Missouri? What do Missouri Synod Lutherans believe?
Those questions — and lots of others — are answered in "Some Thing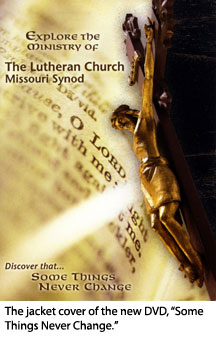 s Never Change," a new 12-minute DVD from Concordia Publishing House.
Narrated by Rev. Matthew Harrison, executive director of LCMS World Relief/Human Care, the DVD offers a brief overview of The Lutheran Church–Missouri Synod, including the church body's history, its growth, its beliefs, and its worldwide ministries.
"The DVD demonstrates how Lutheranism has grown, while its foundation never changes — the eternal Word of God and the assurance of salvation through Jesus Christ," reads the DVD's jacket.
"Some Things Never Change" may be shown to new congregation members, those considering membership, or current members who want to know more about The Lutheran Church–Missouri Synod.
Copies of the DVD were mailed to all LCMS congregations in April. Additional copies are available from CPH for $5 each for one to nine copies, or $2 each for 10 or more copies. Shipping charges are extra.
To order, or for more information, call CPH at (800) 325-3040 or visit the CPH Web site at www.cph.org and search for item no. 75-2040.
Posted April 20, 2006