The LCMS deaconess ministry is the focus of Mercy Works, a quarterly journal that debuted this spring with a mailing list of some 45,000.
LCMS World Relief/Human Care is publishing the journal to raise awareness of deaconesse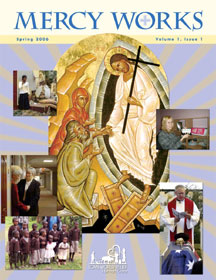 s and opportunities for women who are theologically trained, professional church workers to serve the Lord and people in need through a variety of diakonal (service) ministries.
"Where Christ says 'no' to women's service at one place, He and His Church say a round, hearty and full-bodied 'yes and more!' in a thousand places delimited only by need and gifts," Rev. Matthew Harrison, executive director, LCMS World Relief/Human Care and Mercy Works publisher, writes in the debut issue. "Let's finally get on with saying 'yes!'"
The magazine distribution list includes LCMS pastors; deaconesses; chairs of congregational boards of education, elders, and evangelism; chaplains; LWML zone officers; and Concordia university and seminary presidents.
The next issue will be distributed in July, highlighting the family and diakonal services.
LCMS World Relief/ Human Care Associate Executive Director Rev. John Fale and Deaconess Grace Rao are managing editors.
"The articles in Mercy Works put a face on the compassion, mercy, and care of Christ as He uses our diaconal service to care for the hungry, the thirsty, the stranger, the naked, the sick, the imprisoned, and the least," Fale said.
Mercy Works is free only during its inaugural year. After that, recipients must order a paid subscription. LCMS World Relief/Human Care will provide information about subscription costs in the near future.
For information or to subscribe, contact Deaconess Rao at (800) 248-1930, Ext. 1387 or grace.rao@lcms.org; or LCMS World Relief/ Human Care, 1333 S. Kirkwood Road, St. Louis, MO 63122-7295.
Posted June 30, 2006