A one-day "Hope for Families" seminar set for Oct. 7 in Chicago "will equip congregation lead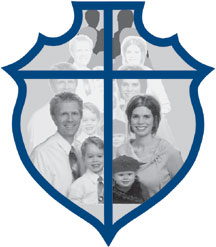 ers, individuals, and families to serve and witness in the home, church, and community," says Kay Meyer, founder and president of Family Shield Ministries.
Family Shield, a St. Louis-based Recognized Service Organization of the Synod, is sponsoring the event at Concordia University, River Forest, Ill.
The program will include "Christ-centered, nationally known motivational speakers, practical ready-to-use ministry ideas, valuable networking opportunities, and time for sharing successes and gathering ideas for effective family and outreach ministry," according to Meyer.
Meyer said church professionals, lay leaders, parish nurses, Bible study leaders, parents, and grandparents "will want to attend."
Scheduled presenters and their topics include:
Rev. Roger Sonnenberg, Family Shield Ministries chairman and pastor of an LCMS congregation in Arcadia, Calif., who will present "The World of High Tech — Blessing or Curse?";
Rev. Gaylord and Pam Spilker, a couple from Edinburg, Ill., where Gaylord is pastor of Trinity Lutheran Church, and their daughter, Wendy, on "When Alcoholism and Drugs Hit Home";
Kay Meyer, who also hosts the Family Shield radio broadcast, on "Fun Family Devotions"; and
Cordell Schulten, a lecturer in contemporary studies at Fontbonne University, St. Louis, and a Ph.D. candidate at Concordia Seminary, St. Louis, on "Resolving Conflict in Families."
In addition, other speakers will address such topics as "Marriage, Divorce, and Recovery," "Hurt — Inside the World of Today's Teenagers," and "The Relevance of Creation — A Look at Foundations."
The afternoon session will include a panel discussion led by Timothy Hetzner, president of Lutheran Church Charities of Chicago.
Registration is $35 ($20 for college students) for the entire seminar, scheduled for 8:30 a.m-5 p.m. Half-day registration also is available at $20. Lunch is $8.
A brochure with a description of the program and a registration form is available on request from Family Shield Ministries, Inc., P.O. Box 230015, St. Louis, MO 63123.
To register, call (866) 370-6070 or go to the Family Shield Web site at www.familyshieldministries.com, where more information about the seminar also is available.
The Hope for Families seminar is supported through a partnership of Family Shield Ministries; Resurrection Lutheran Church, River Forest; Lutheran Church Charities of Chicago; the LCMS Northern Illinois District; Wheat Ridge Ministries; and Thrivent Financial for Lutherans, including its Northwest Cook County Chapter.
Posted June 30, 2006