By Paula Schlueter Ross
LCMS World Mission staff say they can place more than 250 people as missionaries right now — all they need are the people.
"People who have a love for people, people who love adventure, who have a love for other cultures and a willingess to be uncomfortable, an openness to change, and a heart for the lost, a heart for the Lord" are ideal candidates for missionary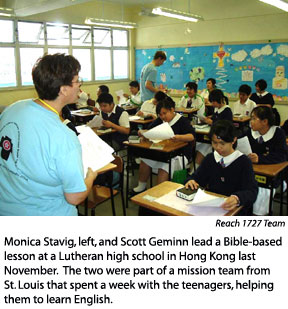 service, according to Erin Alter, placement counselor with the Synod's mission board.
Length of service is negotiable — anywhere from a week to a year or more — and no overseas experience or special training is required for most positions, says Alter. Just a willingness to serve, she says. The Holy Spirit will do the rest.
That sentiment is echoed by Allison Zehnder, 24, who took part in a 10-day mission trip last November with a trio of college students and a handful of Concordia Seminary, St. Louis, students and their wives. The group helped teach English to teenagers at a Lutheran high school in Hong Kong and their experiences were memorable for all involved, according to Zehnder, who works full time at the Synod's International Center in St. Louis and is married to seminarian Zach Zehnder.
"Everyone was really into it, and everyone brought a different gift," she said. "It doesn't matter if you've been on 100 mission trips or you've been on one."
Zehnder, who was born and raised in Africa by missionary parents, said that "didn't make me any more qualified to teach in Hong Kong" than those who had never been overseas before. "As long as you have a heart for sharing God's Word,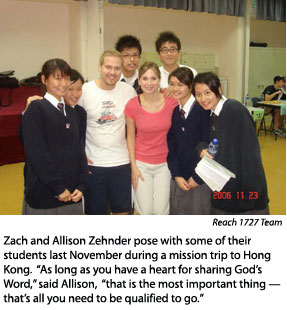 that is the most important thing — that's all you need to be qualified to go."
Zehnder said that a fellow seminarian wife — a 50-year-old mother of four children — had voiced many doubts about serving overseas, even as she was flying to Hong Kong.
"Coming back [home], she was the first person to say she would go back again," Zehnder added, because the experience drives home the need for world evangelism and is often "life-changing" for those involved.
Highlights of Zehnder's service, she told Reporter, included visiting the teenagers' homes and meeting their parents and grandparents, and spending time with students on outside excursions such as shopping and sightseeing.
The teens were encouraged to pick their own English "names" — which included unusual ones like "Pizza," "Porsche," and "Paper" — and Zehnder said she and other members of her mission group still correspond with the students via e-mail and "instant messaging."
Going with a group, she added, "is a great way to serve."
No one would agree more with that statement than Bruce Wall, who manages LCMS World Mission's team-ministry program for short-term missionaries, or those who serve less than six months.
Wall says he has more than 200 short-term positions available right now for individuals or groups of 10 to 20 people, but the focus, he says, is on team ministry.
Mission teams can come from congregations, schools, organizations, youth groups — even families. "Any good Lutheran group that has a heart to serve, we want to connect them [to opportunities]," he said.
Most short-term assignments are in Asia and involve working with nationals who are trying to learn English, although other positions are available, such as working with Christian women in Africa, serving on a medical van in Kyrgyzstan, and renovating an old church building in Russia (see related story).
Virtually all of the positions are "mission driven," Wall says, meaning they have been requested by missionaries or partner-church staffs who are based on overseas mission fields.
"It's a real need, not a perceived need," Wall says, and the short-term teams are "key" to "uplifting and growing our ministries overseas" as well as building "excitement about mission in our church body."
So "in demand" are LCMS mission teams that Wall says he wouldn't be surprised if the number of service opportunities "doubles or triples" by this time next year.
"The need is so huge that our congregations — even for 10 days or two weeks — can make a huge difference across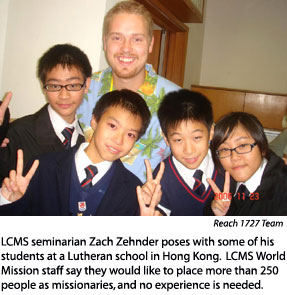 the globe," said Wall, "especially in Asia, where the majority of the people in the world live."
"Huge differences" also are seen in those who serve overseas, according to Wall.
Afterwards, "they're more active in the congregation, they have a heart for mission," he said. "It's a win-win — it's a really big win for the mission field, and it's also a really big win for those who go and serve because they come back excited about the mission … and willing to do more at home."
Teams are responsible for their own travel and living expenses — which typically run about $2,000 per person for a week or two — and LCMS World Mission staff provide fundraising tips.
"We have a fundraising guide that we've produced that helps you raise money and prayer support before you go," said Wall. "We walk you through it."
Groups considering serving as mission teams are advised to contact World Mission to begin the planning process at least six months before they want to go. Although summer and other school breaks are popular times to serve, opportunities are available year-round.
Erin Alter, who places long-term missionaries for LCMS World Mission — typically for a year or longer — says more than a third of the 80 positions she would like to fill this year have already been taken by current missionaries who have decided to "extend" their service.
Of the 30 missionaries who are "re-upping" in a total of 11 countries, eight are doing so for the first time and the other 22 already have served two or more terms. Last year, 30 missionaries also extended their service, according to Alter.
"I'm still amazed that there are all these people who keep going," she said, adding that the trend is definitely a good thing.
"People who extend are able to continue building on the work that has already been done," Alter said. "The relationships and opportunities for ministry that they have developed can be deepened and expanded when they are able to stay for another year."
Among this year's requests for long-term missionaries,