Thanking members of The Lutheran Church—Missouri Synod for their Christian witness and "good works and all the comfort for those suffering around the world," U.S. President George W. Bush provided a videotaped greeting on July 15 to the 63rd Regular Convention of The Lutheran Church—Missouri Synod in Houston.

Bush, a former Texas governor and a native of Crawford, cited the convention theme, "One Message–Christ! Hi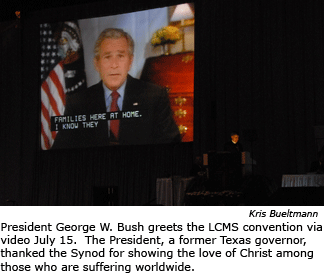 s Love is Here for You!" He said the Synod has shown the love of Christ by building new homes for tsunami survivors in Southeast Asia, aiding flood victims in Indonesia, and treating those who suffer from HIV/AIDS or malaria in Kenya. In the United States, he said, the Synod is helping nursing homes and hospitals in communities struck by tragedies and natural disasters.
"You are providing light in times of darkness and making our world a better place,"Bush said.
"I thank the Missouri Synod for supporting our troops in harm's way," he said. "Today, more than 90 chaplains from the Synod are serving the needs of our brave men and women in uniform in places like Afghanistan and Iraq. Your members have sent our troops 'care packages' and provided support for their families here at home. I know they appreciate your ministry — so does their Commander in Chief."
President Bush also extended his thanks for the Missouri Synod's devotion to family, faith, and freedom and to defending the sanctity of marriage. He expressed his best wishes for the Synod's "ambitious Ablaze! program," which seeks to reach 100 million people with the Good News of God's love in Jesus Christ by the year 2017. He thanked the members of the Missouri Synod "for all you do to love your neighbor as yourself."
Texas District President Ken Hennings brought greetings from the State of Texas, the host district. Last year, the Texas District celebrated its 100th anniversary and set the goal of starting 200 new congregations between 2004 and 2017. "Thank you for honoring us—we are both humbled and honored by your presence," he said.
Read the full transcript of President Bush's greeting or view video.