The Children's Christian Concern Society (CCCS) is holding its annual mission conference Nov. 2-3 at Lord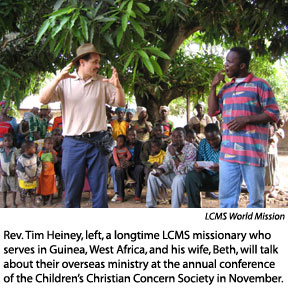 of Life Lutheran Church in Leawood, Kan. The theme of the gathering is "Well of Blessings," from Deut. 6:10-11.
Rev. Tim and Beth Heiney, longtime LCMS missionaries currently serving Guinea, West Africa, will serve as the conference's keynote speakers, sharing their experiences with Guinean schools that receive CCCS funding.
CCCS is an LCMS Recognized Service Organization that makes it possible for children in more than a dozen countries in Central and Latin America, Africa, and the Middle East to attend Christian schools. Its mission is "Sharing the love of Jesus with children around the world through Christian education."
Other conference speakers include Dan Haugen, executive director of Cross Country Mission Society in Idaho Falls, Idaho, who will share everyday witnessing skills, and Kansas City author Teresa McCown, friend and 10-year tutor for the princess of Saudi Arabia, who will speak about living as a Christian in a Muslim country.
The registration fee of $25 by Oct. 19 — or $30 after that date — includes lunch.
For more information, or to register, visit the CCCS Web site at www.cccskids.org, or contact CCCS at (785) 357-7688 or cccs@kslcms.org.
Posted Oct. 9, 2007