The Open Arms Institute is offering a training conference on "Connecting with your Community through Child Care Ministry" Nov. 8-10 at the Mainsail Suites and Conference Center in Tampa, Fla.
The three-day conference is open to anyone with an interest in starting a Lutheran child care center — either in conjunction with an existing congregation o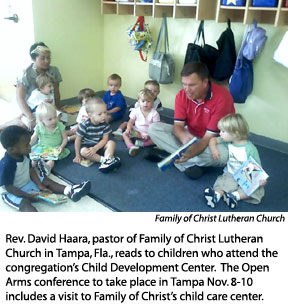 r to start a new congregation. It includes a visit to a local Open Arms center — Family of Christ Lutheran Church and Child Development Center in Tampa — where participants can get acquainted with the Open Arms concept and visit with those who are operating a successful child care center.
Topics to be covered include doing demographics and feasibility studies, acquiring financing, purchasing a site, building a facility, hiring staff, setting up a program, and reaching out to the community.
Registration, which includes meals, is $175 for Open Arms members, or $215 for non-members, by Oct. 15; after that date, registration is $215 for members and $255 for non-members. A fourth registrant from the same ministry is free. Lodging is available at a special conference rate. Scholarship help is available.
For more information or to register, visit www.openarmsinstitute.com/conferences.htm or contact the institute at (970) 667-3249 or openarmsinstitute@msn.com.
The Open Arms Institute, based in Loveland, Colo., is an LCMS Recognized Service Organization that has helped Lutherans start more than 60 child care centers nationwide since 1989. Its purpose is "to foster and guide Lutheran church planting and Gospel outreach with child care ministry."
Posted Sept. 25, 2007