Concordia Theological Seminary, Fort Wayne, is sponsoring a charter bus trip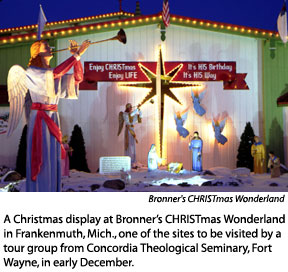 to Frankenmuth, Mich., Dec. 8.
The itinerary includes a visit to historic St. Lorenz Lutheran Church, established in 1845 and one of the Synod's 14 charter congregations; a Christmas concert; stops at local shops, including Bronner's CHRISTmas Wonderland; and an authentic German dinner at the Bavarian Inn.
Cost is $65. For more information or to register, call the seminary at (260) 452-2266.
Posted Nov. 7, 2007