By Kim Krull
A rising jazz star with deep Lutheran roots and LCMS World Relief/Human Care will kick off a campaign to help South African youth at a concert celebration, April 23, at the Sheldon Concert Hall in St. Louis.
The concert features Erin Bode, who traveled to South Africa to sing with the Themba Girls school choir and record the CD that will be released that night. Proceeds from "The Themba Girls with the Erin Bode Group" will benefi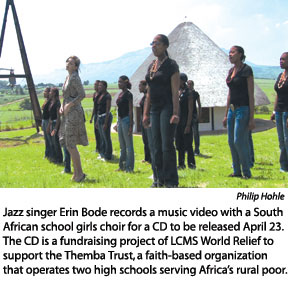 t the Themba Trust, a nonprofit foundation that operates two residential high schools and other youth development programs serving South Africa's rural poor.
"We want to shed light on the plight of these girls and raise awareness of a faith-based organization that is doing great things in the midst of one of the world's most difficult situations," said Rev. Matthew Harrison, executive director of LCMS World Relief/Human Care, the mercy arm of the LCMS.
The event will feature a performance by Bode and a video presentation of the girls school choir, shot in South Africa. Harrison will share the story of Themba, whose two schools serve about 500 students in a country of great poverty and limited education opportunities and where one in eight South Africans is HIV-positive
Rev. Dr. Jacob A. O. Preus III, president of Concordia University, Irvine, Calif., and Bode's uncle, is expected to deliver "a special message."
"When you see these girls and meet them, you want to do something for them," Bode said of the young South Africans. Many of the teens, ages 17 to 19, have known hunger and abuse. Nearly all have lost loved ones to AIDS.
Harrison conceived the idea for the CD project when he visited South Africa and heard the girls sing. Despite no formal music instruction at the schools, choirs have blossomed. The girls reminded him of Bode, 29, a popular recording artist whose family tree is loaded with LCMS branches.
Along with Preus, they include: Bode's father, Rev. Gerhard Bode, pastor of Peace Lutheran Church, Hutchinson,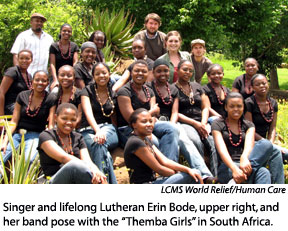 Minn., and grandfather, Rev. Dr. Gerhard F. Bode, a former Oklahoma District president. Her late grandfather, J.A.O. Preus II, was Synod president from 1969 to 1981.
"Erin is a rising star with a wonderful voice," Harrison said. "We're so appreciative that she also has a heart for the girls and wants to help make a difference."
LCMS World Relief/ Human Care is a longtime supporter of Themba (TEM-bah), which means "hope" in the language of the Zulu tribe. The foundation's roots began with mission work by German Lutherans more than a century ago. The schools (one each for girls and boys) are located in the rural village of Dirkiesdorp and provide quality academics and religious education.
Many students come from poor families who are members of congregations of the Lutheran Church in Southern Africa, an LCMS partner church. The Independent Evangelical Lutheran Church in Germany and the Free Evangelical Lutheran Synod in South Africa, also LCMS partner churches, are Themba supporters.
Themba covers the boarding and tuition costs of about a third of its students. Because of the tragic impact of HIV/AIDS, the foundation also provides for a growing number of "unexpected beneficiaries."
Themba depends heavily on charitable support. Proceeds from the CD will provide scholarships for needy students. If those scholarships are fully funded, Themba trustees hope to start a music center to offer students vocal and instrumental training.
The concert celebration is free, but a ticket is required for admission. LCMS World Relief/Human Care is requesting a donation of $25 or more to purchase the CD, which features American hymns, Zulu spirituals and original material penned by Bode.
To learn more about the concert celebration or to order the CD, visit www.thembagirls.org. For more information, call LCMS World Relief/Human Care (800) 248-1930, Ext. 1380.
Posted March 29, 2007