LCMS World Relief/Human Care already battles the number-one killer of children in Africa. Recently, the Synod's mercy arm took part in a White House roundtable to explore fighting malaria even harder.
"We have provided a great deal of medical care for malaria victims and continue to do so," said LCMS World Relief/Human Care Executive Director Matthew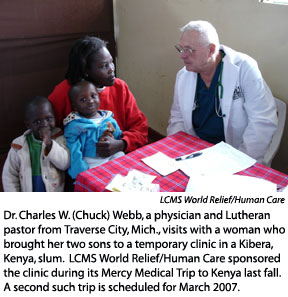 Harrison. "This was a great opportunity to contemplate how LCMS World Relief, together with our many African partners, can look at ways to be even more aggressive in dealing with this horrible disease."
Harrison and Rev. Albert Collver, executive pastoral assistant, were among about 100 leaders who took part in the Feb. 15 roundtable in Washington, D.C., coordinated by the White House Office of Faith-Based and Community Initiatives (OFBCI).
In his 2007 State of the Union address, President Bush renewed a call to Congress to provide additional funding to combat malaria — a preventable and treatable disease that each year claims more than a million people, many of them children under age 5 in Africa.
A key to the President's $1.2 billion malaria initiative is building sustainable community health programs in affected countries by partnering with faith-based and community organizations.
President Bush recognizes the "unique capabilities" of church and faith-based groups to battle a disease that Africans consider an even greater threat than AIDS, Collver said. "Faith-based groups are the ones Africans trust and are most likely to want to work with. They know that governments come and go, but that the church always will be there," he added.
Jay Hein, OFBCI director, coordinated the roundtable. Laura Bush was among those who addressed the group. The First Lady spoke about the previously announced creation of the Malaria Communities Program to engage more faith-based and community organizations in the fight against malaria.
LCMS World Relief/Human Care's participation in the malaria roundtable shows that the ministry is "a significant player and an effective, cooperative partner that respects other partners," Collver said.
In October, LCMS World Relief/Human Care sent a team of doctors and nurses to Kenya, where the group treated nearly 1,000 Africans, including many malaria cases.
"Children came alone for treatment," said Sally Henrickson, a registered nurse and licensed clinical social worker, who is medical/material goods resource coordinator for LCMS World Relief/Human Care. Henrickson organized the clinic at a Lutheran church in the heart of the notorious Kibera slums. "The needs are overwhelming," she said.
A second Mercy Medical Trip of doctors and nurses is scheduled to leave for Kenya on March 23.
LCMS World Relief/Human Care also is providing medical supplies for two clinics in Kenya in partnership with the Evangelical Lutheran Church in Kenya and a new medical facility being built in southern Sudan in partnership with the Evangelical Lutheran Church in Sudan.
"We can do a lot with little in Africa," Henrickson said. "We spent $4,000 for medications and treated 1,000 people (in October). Even a few doctors and nurses who donate their time make a big difference.
LCMS World Relief/Human Care is seeking LCMS medical volunteers for future medical mission trips as well as used medical equipment in good condition for clinics. To learn more, contact Henrickson at (800) 248-1930, Ext.1380, or sally.henrickson@lcms.org.
To learn more about LCMS World Relief/ Human Care, visit http://worldrelief.lcms.org.
Posted March 1, 2007