At this writing, the fires were still raging in southern California, but already LCMS World Relief and Human Care had sent $50,000 to the Synod's Pacific Southwest District to help those who have been evacuated from — or lost — their homes in the disaster.
The emergency grant was sent Oct. 24 to the district office in Irvine, Calif., north of San Diego, Escondido, and other cities threatened by more than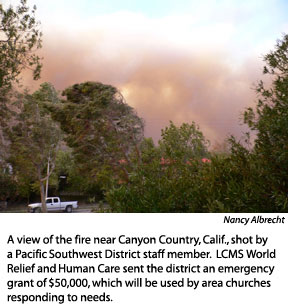 a dozen wildfires. The money will be distributed among LCMS congregations that have been providing shelter and spiritual care to scores of displaced people.
In cooperation with the city of Temecula, Calif., Trinity Lutheran Church there reportedly housed some 500 people Oct. 23, according to a report from LCMS World Relief and Human Care. Missouri Synod congregations in Escondido and Chula Vista also served as evacuation centers.
Rev. Douglas Jones of St. James Lutheran Church in Imperial Beach, Calif., spent the mornings of Oct. 22-23 at Qualcomm Stadium, providing spiritual support to evacuees in the medical section. He reportedly saw only one other clergy member there.
No LCMS churches have reported damage, but a few are located in areas still threatened by fire. Several LCMS families have lost their homes, and likely hundreds have been evacuated.
At least six schools operated by LCMS congregations were closed because of the fires and their smoke, but none have reported damages.
Two staff members with LCMS World Relief and Human Care — Rev. Carlos Hernandez, director of districts and congregations, and Rev. Glenn Merritt, director of disaster response — began on-site assessment the week of Oct. 22, working with Pacific Southwest District staff and local pastors.
Hernandez said he could smell the smoke even before his plane landed in Los Angeles.
"Much work lies ahead of us as the mounting, massive needs continue to surface in the aftermath of what is being called one of the worst fire disasters in California history," Hernandez said.
In a joint statement released Oct. 26, LCMS President Gerald B. Kieschnick and Rev. Matthew C. Harrison, executive director of LCMS World Relief and Human Care, appealed to Lutherans nationwide for their "prayers and support."
"We need your financial assistance so that the Synod's mercy arm can continue to reach out in southern California, responding to physical and spiritual needs with Christ's love," they write.
Contributions may be sent to LCMS World Relief and Human Care, P.O. Box 66861, St. Louis, MO 63166-9810 (make checks payable to "LCMS World Relief and Human Care," and designate donations for "California Fire Relief 2007" in the memo line).
Or, call the toll-free give line at (888) 930-4438.
Gifts also may be donated securely online by clicking here.
Posted Oct. 26, 2007