Registration is open for Lutherans For Life's 25th National Conference, July 6-8 at the Doubletree Hotel and Executive Meeting Center in Omaha, Neb.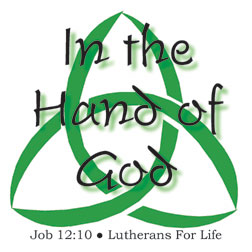 "In the Hands of God" is the theme for this year's conference, which is open to anyone interested in pro-life, pro-family witness based on the Word of God — on which LFL and its annual conference focus.

The theme is taken from Job 12:10: "In his hand is the life of every creature and the breath of all mankind."

The various registration options — for married couples, individuals, LFL members, nonmembers, students, children, and for partial attendance –- are available at a discounted rate through June 15. A $15 late fee will be added for those who register after that date.

The conference begins July 6 with a 7:30 p.m. keynote address by Dr. Wallace Schulz, and is scheduled to end after a 10:30 a.m. brunch July 8. Also on th
e conference agenda are two other plenary sessions and eight workshops on Saturday, as well as Bible study and worship Sunday morning.
Schulz, "evangelist" for Lutheran Heritage Foundation, will address the topic "By God's Gift of Faith We Believe … and We Speak for His Unborn." He lives in St. Louis.

Other plenary presenters are:
Dr. David Menton, of Ballwin, Mo., a creationist anatomist, speaking on the topic "Chance or Design,"
Dr. Dean Wenthe, president of Concordia Theological Seminary, Fort Wayne, who will speak on "The Christology of Life … and the Spirit of Life," and
Buddy Davis, a pro-life author, illustrator, and singer/songwriter from Utica, Ohio, who also will perform and speak at a Saturday evening "Family Fiesta" – a first-time conference event.
In addition to joining their parents for Davis' performances and other plenary sessions, children may attend conference sessions and activities designed especially for them.

A limited number of scholarships to cover conference costs are available for high-school and college students.

Saturday's on-site workshops explore a variety of life topics, including abortion, end-of life issues, evolutionism, and Biblical manhood and womanhood.

Two field-trip workshops also are scheduled for that day. One is for families who will spend a few hours at Omaha's Henry Doorly Zoo, vying for prizes in a scavenger hunt to find the most items that pertain to evolutionary thought. The other workshop, titled "Quality Living," is described as a "small servant event," where 20 conference volunteers will visit people with disabilities at a rehabilitation facility.

Pre-conference activities are offered for July 6 –- a tour of Omaha with stops at Girls/Boys Town and the Strategic Air Command Museum; and two fundraisers — a mini-golf tournament for men, and a "dress for life" event for women.

For complete conference information, including registration, click here. Or, to request a conference brochure from LFL, call (888) 364-5433, or send an e-mail message to info@lutheransforlife.org.
Posted March 29, 2007