Delegates to the annual synod, or convention, of the Evangelical Lutheran Church of England (ELCE) got a chance to examine copies of Lutheran Service Book,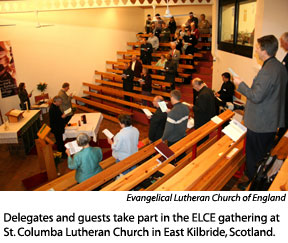 the latest hymnal of The Lutheran Church–Missouri Synod, and passed a resolution officially adopting it as a worship resource for the church body. The resolution also calls on the ELCE to begin work on a supplement to the hymnal that will contain a number of British hymns.
The synod was held Oct. 12-13 in East Kilbride, Scotland, under the theme "Saved by Grace — Created for Good Works," based on Eph. 2:8-10. Hosting the two-day convention was the ELCE's only congregation in Scotland, St. Columba Lutheran Church.
The congregation received 40 copies of Lutheran Service Book from University Lutheran Chapel in Minneapolis. For some of the 22 delegates, this was their first look at the hymnal.
"I liked the hymnal very much," said delegate Maria Crede. "I especially liked the layout. You can find eve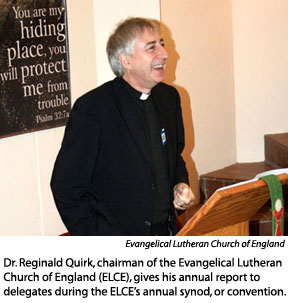 rything very easily."
Delegates also voted to provide some of the hymnal's support materials, such as the Altar Book and Agenda, to each of the ELCE's 14 congregations. The church body has about 900 members.
In other action, ELCE Chairman Dr. Reginald Quirk was re-elected on the first ballot to his third three-year term. Quirk is preceptor of Westfield House, the ELCE seminary in Cambridge.
Quirk described the annual synod as "much more than a business meeting — it is a time when the people from isolated congregations gather together around the Word and prayer."

Among resolutions adopted during the convention, delegates also voted to:
require criminal background checks for all church members working with children or youth.
endorse the "strategic plan" of Westfield House and allow the seminary to use funds contributed for the purpose of expanding the facility and its programs.
support a Lutheran pastor in Portugal, one of two serving the Portuguese Lutheran Church there.
For more information about the ELCE, visit its Web site at www.lutheran.co.uk.
Posted Dec. 12, 2007