LCMS World Mission's "The 72 –- Partners on the Road" — formerly known as "Harvesters for Christ" –- is now accepting applications from congregations that would like to engage a trained team to help with outreach.

The appeal is specifically for congregations interested in hosting a team any time after Labor Day 2007 and throughout 2008.

The new name "The 72" recalls Jesus appointing "seventy-two others," sending them "two by two ahead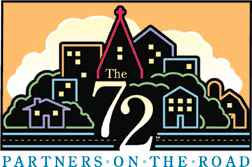 of Him to every town and place where he was about to go," and His telling them, "The harvest is plentiful, but the workers are few" (Luke 10:1-2).

Rev. Al Tormoehlen, director of "The 72," explained that the newly-named ministry "utilizes trained volunteers to partner with congregations that want to begin, revitalize, enhance, or expand their ministry to reach those who do not know Jesus Christ as their Savior and Lord."

He added that volunteers "provide on-site assistance for a three- or four-week period of time," and that, typically, a team is a married couple — often retired.

Congregaions being served ty team of "the 72" cover the cost of their housing, transportation, and meals.

To request a team, call (800) 433-3954 or send an e-mail to Tormoehlen at al.tormoehlen@lcms.org. To learn more about the ministry of "The 72," go to http://www.lcmsworldmission.org/the72.

Tormoehlen added that "The 72 — Partners on the Road "supports the Synod's Ablaze! vision by equipping individuals and congregations to embrace with comfort and joy their baptismal calling to share the Good News of salvation found only in Jesus Christ."

He said that "The 72" will help realize the Synod's Ablaze! goal of sharing the Gospel with 50 million unreached or uncommitted people in the United States by 2017.
Posted March 29, 2007