Rev. Glen D. Thomas of St. Louis began serving Nov. 5 as executive director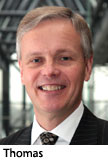 of the Synod's Board for Pastoral Education.
Thomas, 51, held a number of posts at Concordia Seminary, St. Louis, over the last 18 years, most recently as special assistant to the president. Before joining the seminary, he was pastor of Zion Lutheran Church, Mascoutah, Ill., from 1982 to 1989.
In his new post, Thomas succeeds Dr. L. Dean Hempelmann, who retired Oct. 1 after directing Pastoral Education for eight years.
Hempelmann previously served from 1993 to 1999 as the third president of Concordia Lutheran Seminary in Edmonton, Alberta, Canada, leading the
seminary to full accreditation. Prior to that, he served Concordia Seminary, St. Louis, in a variety of positions, including acting president and academic dean, and has been pastor of congregations in Selah, Wash.; Salem, Ore.; and Affton, Mo.
Hempelmann currently is writing a commentary on the pastoral epistles for Concordia Publishing House, St. Louis.
The Synod's Board for Pastoral Education coordinates policies and procedures for the Synod's two seminaries and pre- and post-seminary programs, and administers the LCMS Joint Seminary Fund.
"I look forward to being an advocate throughout our Synod for our seminaries, our pastors, and the eternally significant mission we share," Thomas told Reporter. "There will be many challenges ahead, but also many opportunities to be of great service."
A 1982 graduate of Concordia Seminary, St. Louis, Thomas currently is enrolled in the D.Min. in Expository Preaching program at The Southern Baptist Theological Seminary, Louisville, Ky. He also is an alumnus of Concordia College (now University), Ann Arbor, Mich.
Posted Dec. 27, 2007