Concordia University Texas, Austin, is developing a Bachelor of Science in Nursing (BSN) program to help meet the need for nurses in Texas.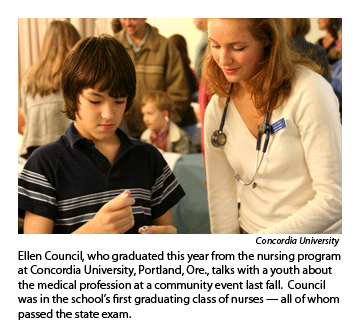 Pending approval from the Texas Board of Nursing, the LCMS university expects to begin admitting students to pre-nursing courses this fall, and professional nursing courses in fall 2010.
"Just as the aging U.S. population requires more care, the number of qualified nurses is shrinking across the nation," said Concordia, Austin, President Tom Cedel. "Federal projections are that employment opportunities for registered nurses are expected to grow faster than the average for all other occupations. Concordia is proud to help meet this critical workforce need."
Dr. Joy Hinson Penticuff, R.N., formerly an endowed professor of nursing at the University of Texas at Austin, will serve as Concordia's director of nursing program planning. The new four-year program, which will be housed in the university's College of Science, will be led by Penticuff under the direction of Dean Michael Moyer.
Concordia, Austin, is the fifth Concordia University System (CUS) school to offer a nursing program. Others are Concordia College — New York, Bronxville, N.Y.; Concordia University, Irvine, Calif.; Concordia University, Portland, Ore.; and Concordia University Wisconsin, Mequon.
For more information about the new program at Concordia, Austin, contact Penticuff at joy.penticuff@concordia.edu or (512) 313-5510.
For information about any of the Synod's 10 CUS schools nationwide, visit the Web site of the Board for University Education at www.lcms.org/?886.
Posted July 3, 2008