Concordia Publishing House is offering its customers a way to stretch their min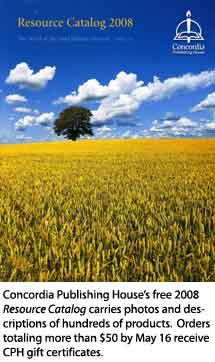 istry dollars: Each purchase of $50 or more of any in-stock product ordered by May 16 earns a gift certificate that can be used on a future purchase.
Purchases of $50 to $99.99 receive a $10 gift certificate; purchases of $100 to $199.99 receive a $20 gift certificate; and those over $200 receive a $40 gift certificate.
Gift certificates may be used through June 6.
For more information, or to order, visit the CPH Web site at www.cph.org or call (800) 325-3040.
Posted May 8, 2008